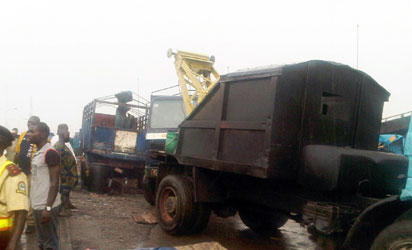 File photo: Vehicles being towed by men of the Lagos State Traffic Management Authority (LASTMA) at Marine Beach under bridge, Apapa.
Lagos – The Apapa-bound carriageway of the Apapa Marine Beach Bridge will be closed on Friday for 29 days in its ongoing rehabilitation, the site Manager, Mr Simon Barakat, has said.
Barakat, who spoke to the News Agency of Nigeria (NAN) on site on Thursday, appealed to road users to be patient and use alternative routes.
"We will close the Apapa-bound carriageway on Friday evening, and it will remain closed up till May 8.
"We appeal to road users to slow down in this area and be more careful to use the diversions and respect traffic signs to check gridlock.
"Truck owners should avoid breakdowns within this period by maintaining their vehicles regularly,'' he said.
Barakat, a Senior Engineer with Buildwell Plants and Equipment Industries Ltd., the contractors handling the project, told NAN that two major diversions had been created to avert gridlock.
The manager said that the repair done on the Ijora/Lagos-bound carriageway was being replicated on the Apapa-bound carriageway, adding that foundation works under the bridge had been completed.
"We are marking, cutting and doing the preparation to start post tensioning of the bridge; this gives strength to the bridge.
"We have to demolish the bridge to fix the cables and cast concrete on it again to prepare it for the next stage of construction which will be installation of bearings,'' he said.
He said after the 29 days, the next stage of repairs would be replacement of bearings on both carriageways which, he said, would take 40 days on each side.
Mrs Bola Suleiman of the Federal Ministry of Power, Works and Housing, an engineer supervising the project, told NAN that all the traffic management agencies had been mobilised to ensure free flow of traffic during the closure.
"The traffic management agencies are all aware; we made the decision together at our stakeholders' meeting; they will divert traffic coming to Apapa through Ajegunle and Mobil Road,'' she said.
Suleiman said that the ministry was filling potholes on Burma Road to ease traffic.
The Marine Beach Bridge was damaged by fire about 10 years ago.
Contract for repair of the bridge was awarded in 2012, but the contractor abandoned the project due to funds constraint.
The contractor moved back to site on March 5 to begin the repair works.
The Ijora/Lagos-bound carriageway was opened to light traffic on March 26 after the first phase of work was done on the carriageway.