By Ikechukwu Nnochiri
ABUJA—THE Federal Government yesterday directed the Nigerian Law Reform Commission, NLRC, to review statutes relating to the Code of Conduct Tribunal, CCT, and the Tax Appeal Tribunal, so as to reposition the institutions to be "more efficient, effective   and alive to their responsibilities."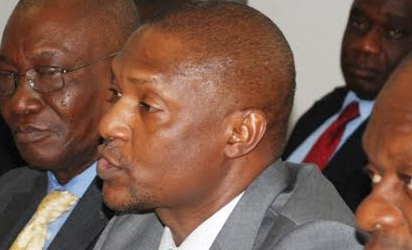 Equally on the list of institutions that FG wants the Commission to bring in line with international best practices included the Investment and Security Tribunal.
The Attorney-General of the Federation and Minister of Justice, Mr. Abubakar Malami, SAN, passed the directive to Chairman of the NLRC, Mr. Kefas Magaji, after he received a report from the commission on Reform of Federal Laws at the Ministry of Justice headquarters in Abuja.
According to a press statement by Special Adviser to the AGF on Media, Mr Salihu Isah, after he received the report, Malami, SAN, challenged the NLRC to embark on measures to strengthen the nation's laws and institutions.
The AGF stressed that the cardinal focus of the current administration under the leadership of President Muhammadu Buhari is to fight against corruption.
Isah quoted Malami as saying: "It is against the background of that direction amongst others that I consider it necessary and material to urge the Law Reform Commission to look at the possibility of strengthening our laws and institutions that are intended to provide focus and direction as it relates to fighting against corruption drive.
"Institutions like Code of Conduct Tribunal, Investment and Security Tribunal; Tax Appeal Tribunal have a great role to play as far as fight against corruption policy of the Federal Government is concerned."
He further stated that laws relating to the above institutions require certain reforms that will bring them in line with international best practices, adding that the time is ripe for the Commission to look in that direction to see which way and manner they could support the position of the Federal Government as it relates to the fight against corruption through institutional reforms.
"The Minister affirmed that the presentation of the report on the reform of Federal laws as embarked upon by the Commission, was aimed at strengthening the legal frameworks through amendments', refill and re-enactment of the laws under consideration.
"He commended the Commission for a job well done, because they started not only with the review of the law, but came up with the draft bills and also provided a soft copy to the Office of the AGF".
Malami said the work of the Commission had greatly assisted the nation and reduced his job to presentation of the relevant Council memo for consideration of the draft bills and subject to the Federal Executive Council for confirmation or ratification, and transmission of same to the National Assembly for passage.
He revealed that among issues treated in the report included the International obligation of Nigeria as it relates to the United Nation Convention against Torture.