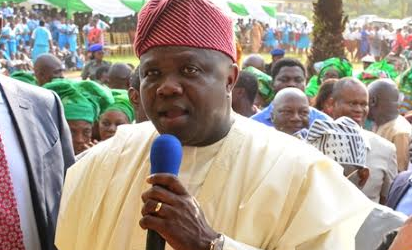 Gov. Akinwunmi Ambode of Lagos state
THE Governor of Lagos State, Akinwunmi Ambode has indicated his willingness to be present at this year's edition of the the International Inter Club Badminton competition to be hosted by the Badminton Section of Ikoyi Club, 1938 in conjunction with the Lagos State Badminton Association (LSBA).
The competition which commenced last year was initiated by the last administration, headed by Chikwendu Ogbonna, to foster a closer interaction within the badminton fraternity in Nigeria and the rest of Africa. Last year, seven clubs were in attendance from Ghana and various states in Nigeria. The 2016 event was sponsored by Dufil Foods and Sovereign Trust Insurance.
This year, under the new Chairman, Sunday Wusu, the international inter club badminton competition has witnessed an expansion with 11 clubs confirming participation as well as more sponsors on board. The sponsors for this year are Prestige Assurance PLC, Henry & Henry Ltd, Masters Energy, Stallion Group and various individuals.
Wusu assured that this year's event would help poularise the sport in Nigeria.  "We, in partnership with the LSBA, intend to sustain this competition as a way of popularizing the sport and creating awareness as a fun sport to attract the younger generation.
"It will surprise most people to know that Badminton is the fastest racquet sport in the world and the level of fitness required to play it at a moderately decent level is quite high. we have elders as old as 65 still actively involved, and recently a 100 year old man actually requested his son to bring him back to our courts where he recalled his days playing the sport. He held a racquet and hit some shots to the admiration of many.