The Federal Road Safety Corps (FRSC) says there is an upward trend in the rate of road traffic accidents involving private vehicles in the country.
The Corps Marshal , Dr Boboye Oyeyemi, who stated this while addressing newsmen in Abuja on Thursday, said the situation was a major source of concern to him.
Oyeyemi backed his claims with statistics which shows a one-point increase from 62 per cent in the first 14 weeks of 2016 to 63 per cent in the corresponding period in 2017.
He, however, said that the reverse was the case for the rate of accidents involving commercial vehicles which, according to him, is decreasing.
The FRSC helmsman attributed the reduction in commercial vehicle-related accidents to the ongoing speed limiter installation enforcement which began on Feb.1.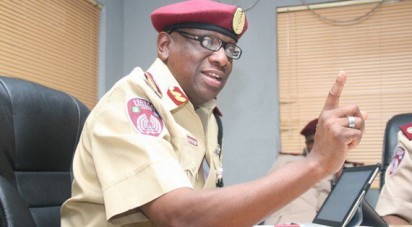 He said, "For now, we are enforcing the speed limiting device on commercial vehicles and the rate of crashes involving them is trending downward.
"But for the private vehicles, the rate it is going up and this is beginning to be my headache now. We will arrest and prosecute them or give them citations.
"I am having a relief gradually with commercial vehicles, but for private vehicles, we are working on a new trick for that,'' he said.
Oyeyemi noted that the enforcement of the speed limiting device was gradually yielding the desired results as it was evident in the reduction of road accidents and fatalities since Feb. 1.
According to him, a total of 2,409 accidents were recorded in the first 14 weeks (Jan. 1 to April 13) of 2017 as against the 2,361 cases recorded in the same period in 2016.
" This is a marginal reduction, but the number of vehicles involved is increasing because the roads are getting better.
"But the fatalities reduced. Last year, 1,458 people died in road crashes within the period, but this year we recorded 1,384. I think we are fully on course,'' the corps marshal said.