By Lawani Mikairu
Lagos—The Managing Director Federal Airports Authority of Nigeria, FAAN, Engr. Saleh Dunoma weekend declared that the Nnamdi Azikiwe International Airport, Abuja runway will today be ready for inspection by Nigerian Civil Aviation Authority, NCAA, and if certified okay by the regulatory authority, will be reopen for flight operations. This is two clear days before the reopening date of 19th  April of the runway for air traffic.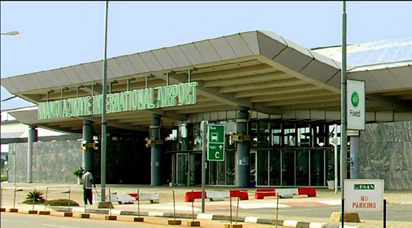 Dunoma who made this declaration after inspecting the runway said; "We will be ready by Monday, April 17 but we are leaving the remaining two days for Nigerian Civil Aviation Authority, NCAA, because they have to certify that what we have done is in accordance with their standards.
''If they do that, we will bring in the traffic. But if they do not, we have the opportunity of making corrections within the two days we have saved".
On the possibility of reopening the runway on April 19, the FAAN MD said; "No doubt about that, we will open it as scheduled. Just as I have said, we worked with NCAA throughout the period, they have been making corrections. But for formality, we need to make sure that all the necessary corrections meet the requirement of the civil aviation authority.
"All the critical items of work are 100% except may be two items, which are the markings and the cleaning. Other critical item which is not works but the inspection and certification will bring in traffic back to Abuja. Asphalt work is 100%, markings have reached almost 70%, the airfield lighting system has reached 80%.
"There is additional work which has nothing to do with this repair but we are seizing the opportunity of the closure of the airport to do it. This has to do with the APEX (Airport Excellence in Safety) related items. We are now levelling all the airfield lightings' locations, all the installations and flash with the ground surface. In case of any skidding, there will not be concrete projection above the ground surface," Dunoma said.
On the calibration of Navigational Aids, he said; "We have not tampered with the Navaids. We just worked on the runway. What we tampered with is the airfield lightings and the airfield lightings are being returned to the same position. The runway does not need calibration. All we need to check is to make sure there is 100 per cent illumination. Calibration is done periodically. When the time comes for calibration, the appropriate authority will calibrate the Instrument Landing System (ILS)."