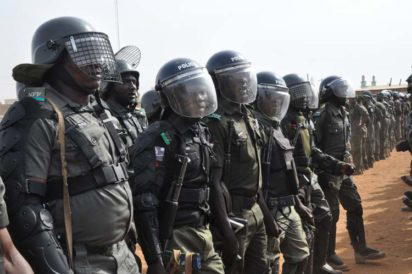 Nigerian Police
By Emma Amaize
ASABA—COMMISSIONER of Police, Delta State, Mr Zanna Ibrahim, yesterday, said that police surveillance teams were gathering intelligence and information on the true perpetrators of the killings  in  Abraka and environs in the state.
Ibrahim, who said that normalcy had returned to the community after Wednesday's protest by villagers over incessant killings by suspected herdsmen, told Vanguard that an enlarged stakeholders' meeting was held on Wednesday in Abraka over the matter.
He said: "The resolution was to ensure that peace and normalcy returns; that the perpetrators are identified and reported forthwith and that henceforth, farmers should  go to farms in groups. Town hall meetings are to continue and members of the Hausa community should return to their places of abode. In fact, they have since returned."
Ibrahim disclosed that Ethiope East Local Government Area of the state will assist those whose property were vandalised
"I am liaising with the military and airforce to share intelligence. I have contacted the Assistant Inspector General of Police,  Zone 5, for Edo State Command, to key into this arrangement, as the area borders Edo State and is also said to be in dispute," he added.