By Chioma Obinna
The ongoing Eko Free Health Mission in Mushin Local Government Area of Lagos is yielding fruits if the expression of less privileged Nigerians who converged at the New City Primary School, Palm Avenue was anything to go by last week.
For over 5,000 persons present at the venue of the exercise it was a dream come true as they benefitted from all kinds of medical treatment and medical consultation at no cost.  One of the beneficiaries, Olabanji Rachael, an SSS2 student, can now see and read her books.  "I want to show my gratitude to the State government because I have been having difficulty reading but now I can see and read very well.  I am grateful."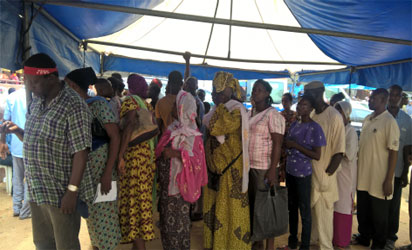 Mrs. Giwa Aleke who has been having tooth problem said: "I am free from pains of many years due to my teeth. I no longer feel it again after they treated me and washed the teeth. Also, Blessing Omogenafem  said: "Mine is complete body checks.  I collected glasses, I did HIV test. My teeth have been paining me and I didn't have money to remove them, I was asked to pay N7000 to remove each tooth, but when I came here I did everything free of charge."
Flagging off the exercise, the Lagos State Governor, Akinwunmi Ambode said  the Health Mission was an intervention programme for the grassroots, aimed at complementing the established healthcare system in the State.
Represented by the Deputy Governor, Dr Idiat Adebule, he said: "I am happy to note that since the commencement of this programme on March 1, over 60,000 residents of Ojo, Oshodi/I solo, Amuwo Odofin, Badagry, Ajeromi, Agege and Ikeja have benefitted. "It is gratifying to note that among the beneficiaries are the elderly, pregnant women and people with disabilities."
According to the State's Commissioner for Health, Dr Jide Idris, the programme was to help ascertain the peculiar health challenges of the people in the grassroots.
Similar programmes in the past helped discover that Badagry has high rate of goitre.   Idris said the ongoing mission in Mushin has  revealed high prevalence of eye disorders, diabetes and hypertension.
"The statistics will assist the government in planning for the health of the people in terms of budgetary allocation and policies.  I urge our people to visit any of our primary healthcare centres whenever you have any health challenge to get prompt medical attention and stay healthy. "
He said the government also embarked on the programme to help many Lagosians with challengsw financial and physical.