By Godwin Oghre & Paul Olayemi
Sapele—No fewer than four mobile policemen on special duty from Sapele Police Station were, yesterday, arrested and detained at the Sapele Police Station over the sudden death of a 52-year-old Sapele/Okpe High Chief, Lucky Ayomanor.
Chief Ayomanor, who recently decamped from All Progressives Party, APC, to Peoples Democratic Party, PDP, was reportedly driving in his SUV to Gana area of Sapele to see his elder brother, when he was accosted by police on a stop-and-search operation.
The deceased's elder brother, Mr. Felix Ayomanor, told Vanguard that "Chief spent a happy time with some of us before he retired home about 8:30p.m. on Wednesday night.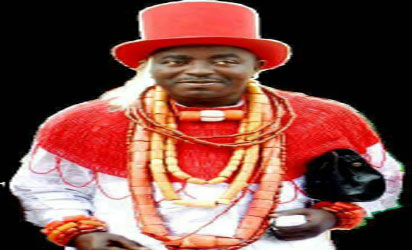 "At about 12 midnight, I received a call from one of our senior brothers, Chief Ikama Ayomanor, who told me he received a phone call that Lucky had been arrested with a loaded pump action gun by a team of mobile policemen, at the Uruakpa axis of the town and was being taken to the police station in Sapele.
"Again, at about 1a.m., I got a call from another brother of ours, Mr. Godwin Ayomanor, saying Chief Lucky was dead and his corpse deposited at the Sapele General Hospital mortuary by mobile policemen."
The arrest
A senior police officer at the Sapele Police Station said: "Four mobile policemen detained in connection with the death of the Chief were drafted to Sapele to checkmate kidnappings," adding that since their arrival in the area, the trend had greatly reduced.
He added: "The Chief was arrested at Urhuakpa axis of Sapele in the midnight of Wednesday with a loaded pump action gun. Recall that kidnapping in the area is in the upsurge.
"The chief started shaking terribly when he was arrested and was taken to the police station by the mobile policemen. He died before they could get to the station and the same mobile policemen took the corpse to the mortuary."
Police spokesman's statement
The state's Police Public Relations Officer, DSP Andrew Aniamaka, who confirmed the incident, said: "The chief developed an unknown illness moments after he was arrested with a loaded pump action gun and died on the way to the police station.
"Investigation is on and we are waiting for the autopsy report."
However, some youths have vowed to avenge his death, saying "we will burn down the police station if the autopsy states otherwise. We know the police killed him."