By Soni Daniel
Abuja: As xenophobic attacks on Nigerians in South Africa continue unabated, a former member of Federal House of representative, Chief USA Igwesi, has described the attacks on Nigeria nationals and other African nationals in South Africa as a total violation of African charter on free movement and human rights.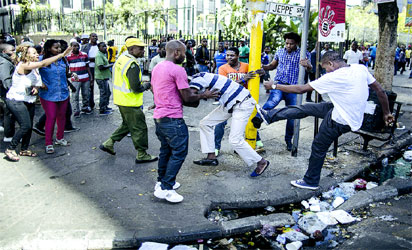 The former lawmaker recalled with pains the role Nigeria played in dismantling apartheid in South Africa and observed that it was wicked and heartless for the same country to turn round and unleash terror, hatred and apartheid on Nigeria who pave the way for their freedom from the white minority that oppressed them.
The former leader of Enugu State House of Assembly however called on Federal Government to fully engage South African Government on how best to eliminate the ugly monster that is fast bringing enmity between the two countries.
He warned that if that was not done fast the possibility of reprisal attacks on South Africans and their businesses in Nigeria could not be overruled.
Igwesi stated that National Association of Nigeria Student (NANS) and other angry Nigerians are already gearing for a complete showdown with South African Nationals and business in Nigeria and that the youths would match fire for fire in the coming days and weeks if the attacks on Nigerians were not stopped with immediate effect.
He further advised that the governments to raise a high powered diplomatic team to x-ray the remote and immediate causes of the attack and how to compensate the victims of the attack and forestall further occurrence given the close bilateral relationship between the two countries.