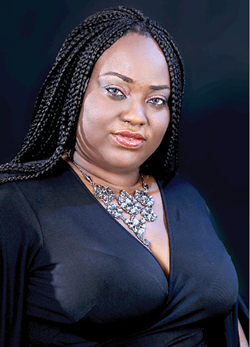 Emem Isong
By Benjamin Njoku
Popular producer and CEO of Royal Film Academy,  Emem Isong-Misodi, who's known for churning out movies that will get you  glued to your TV screens from start to finish, is surely redirecting her career. She now wants to be producing such movies that will not only be emotionally gripping, but also, such that will bring about positive change in the society.
Emem revealed this,  at the private screening of her latest movie, Zahra', which  held penultimate Sunday, at Civic Centre, Victoria Island, Lagos.
Zahra is an advocacy movie that relays the story of a 15 year old girl from the northern part of the country who goes through the harrowing experience of having her village attacked and her family killed by marauding terrorists. She ends up in an IDP camp where she hopes to find refuge  to grieve the loss of her family and dreams.
Starring the likes of  Kannywood's Sani Danja, Patience  Ozokwor, Victor Olaotan, Shawn Faqua, Nicole Ndigwe, Damilare Kuku, Funmi Eko Ezeh, Shawn Faqua, Segun Arinze and Efe Irele, the movie left many in the audience speechless at the end of the screening.
In a chat with HVP, Emem said, " this is a very important message we wish to pass across especially at such a time like this…with the rise in the numbers of refugees  and internally displaced people in the world."
"For years now, I have been doing  a lot  of entertaining movies, but this time, in my career, I want to be making movies that will bring about change in the society. I believe that movies are powerful medium to preach for change in the society. It is high time we started using movies to advocate change in our society," Emem added. According to her, there are plans to première the movie in California and Abuja  soon.
Produced in partnership with Rise Up's Champions for Change, a social advocacy group  and funded by Ford  Foundation, Zahra started showing in in cinemas across the nation from yesterday.