By Sola Ogundipe
An expert in sleep medicine, Dr Adeoye Adefemi, has urged Nigerians to strive to get adequate sleep daily by ensuring that the duration, continuity and depth of their sleep.
Speaking shortly after an organized  walk from Falomo roundabout to Vitafoam Nigeria Plc office on Awolowo Road, Ikoyi to mark this year's World Sleep day activities, themed "Sound Sleep, Sound Health", Adefemi said sleep disorders are negatively impacting wellness in society.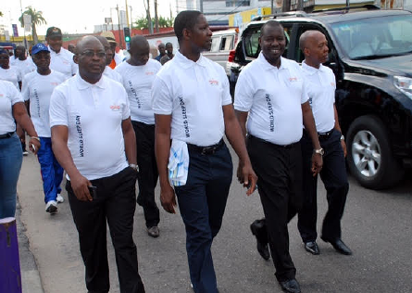 "During sleep, activity is decreased. Sleep is not an unconscious state. We spend about a third of our lives averaging eight hours daily, sleeping. Sleep important in restoring the restorative function of the metabolism of the body and also in conserving energy.
"If  you do not sleep you will not function optimally because you are not well rested and refreshed. You will be fatigued and irritable.
"Without sleep there will be no energy, many hoemonesthat help build up the cells will not be produced and the body will not function optimally."
He explained that while  duration of sleep could be constant over a period, there could be variations from one day to the other. Noting that the body has a way of compensating for sleep deficit, he said the deficit is often paid back over a period.
"Sleep occurs in four stages and it is essential to go through all the stages for complete rest. What is important is the quality of sleep you have. Different groups have different hours of sleep.
"In his speech, the Managing Director, Vitafoam Nigeria Plc., Mr Taiwo Adeniyi, said when sleep fails, health declines and there is decreasing quality of life.
Represented by the Group Technical Director, Mr Abbagana Abatcha, Adeniyi described sound sleep as a treasured function and one of the core pillars of health. Noting that sleep-awareness programmes have potential to produce better leaders, he said Vitafoam is running a sleep challenge to drive awareness for good sleeping position with the tag #myfunnysleepingposition.
"We have mastered the art of sleeping over the years, and this is why we continue to produce quality sleep products, that will help our dear esteemed Nigerians to have sound sleep. Experts say getting a good night sleep  depends on a lot of factors; comfort, stress level, room temperature but to get it right  you have to start with the basics and your mattress is the first building block to a restful slumber.
Noting that the company is launching three new mattresses – Vita Haven, Galaxy Classic and Spring Super – all traditionally crafted to provide perfect sleep, he said:  "Our spring and Orthopaedicmattress is posturpaedic, orthopaedic and therapeutic, this mattress help to support your body in a neutral position, one in which your spine has a nice curvature while your buttocks, heels, shoulders and head are supported in proper alignment."