By Kingsley Omonobi-Abuja.
Senate Rejection means Magu Immediately Ceases to act as EFCC Chairman – Ozekhome.
**Says Buhari can no longer re-present Magu's name.
Constitutional Lawyer and Human Rights Activists, Chief Mike Ozekhome (SAN), has said the second rejection by the Senate to consider Acting EFCC Chairman, Ibrahim Magu for confirmation has put the final nail on his nomination by President Muhammadu Buhari and he ceases to act in that capacity.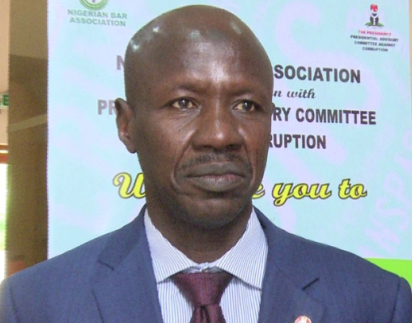 Speaking to Vanguard in a statement while throwing light on 'The Legal and Moral Issues of the Second and Final Rejection of Confirmation of Magu as EFCC Chairman', Ozekhome said that Ibrahim Magu has henceforth ceased to be the Chairman of the EFCC going by the powers vested on the Senate by the constitution.
He said, "Going by sections 2(1) and 2(3) of the EFCC Act, he ceases to be the Executive Chairman. Having left his "acting" position during his proposal to the Senate, he also loses his "acting" capacity. It is simply a bad case.
"The Senate is the only repository of confirmatory powers of the EFCC Chairman. And it has spoken. That is the beauty of the doctrine of separation of powers between the three Arms of government, the Executive, the legislature and the judiciary, as ably propounded by Baron de Montesquieu in 1748.
"Magu's problem is self-inflicted from within the APC ruling party itself that is also not comfortable with the way he has carried on with his functions".
"The worm that kills the maize is right inside the maize. His tenure should have nothing to do with efficiency and effectiveness alone, which he apparently possesses.
"The role of the number one anti-Corruption Czar should be more. It should also embody the finest and most edifying virtues of nobility in terms of observance of citizens' fundamental rights and the all-important rule of law concept.
"The anti- corruption war has so far been fought without a human face, in the most crude, most bizarre, most discriminatory and most degrading manner that diminishes the humanity and respectability of
Nigerians and bring us back into the Hobesian state of nature where life was short, nasty and brutish.
"The anti-corruption fight has been fought in the most opaque, selective, bestial and humiliating manner, devoid of any scintilla or modicum of decency and respect for our collective and individual civil liberties and freedoms.
"It has all but reduced Nigeria to a one Party state, with everyone decamping to APC, because once you do that, you are immediately and automatically protected from the inquisition of EFCC and like Naaman the leper who was dipped into River Jordan seven times and became cleansed of his leprosy, such a decampee is cleansed of his political leprosy and antecedental criminality.
"EFCC has been acting outside of and above the Law, contrary to its motto, using the most detestable, unorthodox, arm-twisting and extra- legal tactics to intimidate, humiliate and bamboozle hapless opponents, critics of Government, opposition elements and critical voices of reason and dissension.
"It should never be as bad as this. Buhari can no longer re-present Magu's name again, because of the serious moral burden, ethical challenges and legal impediments thus imposed on him with this second definitive rejection, this time after a full screening.
"Re-presenting his name will raise more questions than answers as to why the insistence on One man. This is unlike the first instance when Senate merely turned him down without any screening.
"That it was done shortly after the celebrated arrival of President Buhari from his medical vacation makes it more interesting and more significant as it underlines the independence of the Legislature, the Senate.
"It is high time for PMB to look for another competent Nigerian out of about 180 million people in population. After all, there was once a Nuhu Ribadu, a Mrs. Waziri and a Mr. Ibrahim Lamorde.
"Like the cliché goes, soldiers go, soldiers come, and Barracks remain."