By Michael Eboh
Oil and Solid Mineral Producing Area Landlords' Association of Nigeria, OMPALAN, weekend, called on governors of oil producing states to respect the laws establishing the 13 percent oil derivation fund for core oil producing communities.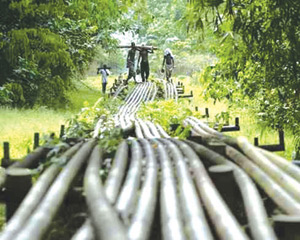 In a statement in Abuja at the end of an interactive forum, National Leader and Chairman, Board of Trustees of OMPALAN, Mr. Udo Azogu, said that the governors should henceforth, adopt policies aimed at using the fund to create wealth in vulnerable and impacted oil producing communities.
He said that government at all levels must cash in on the prevailing political lull in the Niger Delta region to give commensurate level of attention to oil producing communities and remove the peace process from limbo, adding that it must not be taken for granted so that it does not collapse for the worse.
He commended the governors of oil producing states for standing by vulnerable oil producing communities during the recent tour of the Niger Delta region by Vice President Yemi Osinbajo, adding that Osinbajo's critical visit to the oil producing states had given President Buhari's administration wide acceptability in the troubled region.
He disclosed that the environmental committee of the association is working round the clock to develop a blue-print that would effectively insulate impacted communities from extinction and make defaulting producing companies pay heavily for negligence.
In addition, Azogu congratulated the youths of the Niger Delta for the prevailing peace in the region.
He said: "It is our shared belief in OMPALAN that with patience and confidence in the ongoing effort by the Federal Government to resolve the Niger Delta impasse, we shall have a win-win solution.
"With the youths of the region contributing directly to the peace process, the ball is now in the court of the Federal Government to respond with the utmost care and precision, taking cognizance of the fact that that this opportunity might be elusive in the future."