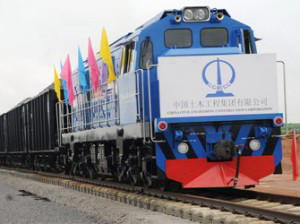 A moving train on the 68 percent completed railway track of the Abuja – Kaduna fast train project launched by Vice President Namadi Sambo in Abuja on Thursday
Mr Fidet Okhiria, the Managing Director of Nigerian Railway Corporation (NRC) says the establishment of an efficient railway system will expand commercial activities and boost the socio-economic development of Nigeria.
Okhiria made the remark in Umuahia on Monday when senior officials of NRC and a team of railway system consultants had a meeting with Gov. Okezie Ikpeazu of Abia.
He also said that a good rail transport system had essential role to play in Nigeria, because it would serve as a catalyst for nation building.
According to him, the Federal Government is rehabilitating the old rail lines as well as constructing modern ones with higher speed and 14.35mm standard gauge track system.
"Presently, we run train twice a day from Port Harcourt to Aba and once a week from Port Harcourt -Aba-Umuahia-Enugu-Markudi-Kafachan-Kano.
"We are looking forward to when NRC will run trains through the length and breadth of Abia," he said.
Okhiria, who noted that rail transportation was cheaper, safer and faster with the capacity to spur the development of the mining sector, assured the state that of NRC's supports in its rail programme.
"We are ready to support Abia rail programme to ensure that it becomes a reality."
Also, Mr Jetson Nwankwo, a Railway System Consultant, said that the rail system would provide unparalleled reliability in mass delivery of goods and an environment-friendly means of transportation.
"The rail system is not here to compete with other means of transport.It is here to complement and its benefits are endless," Nwankwo said.
Responding, Gov. Ikpeazu said that the state government was determined to improve Abia's transport sector, adding that it had evolved programmes for developing a functional railway infrastructure.
Ikpeazu also said that the state government had set up a committee to ensure that Abia railway project was realised, adding that the desired to be part of the Federal Government's railway programme.