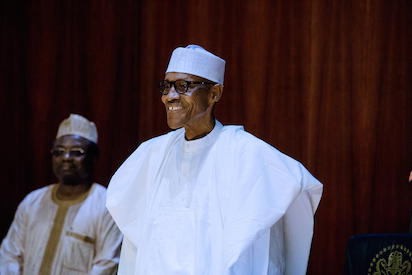 President Buhari presides over the Federal Executive Council Meeting
Presidential Spokesman Femi Adesina says President Muhammadu Buhari is fulfilling his campaign promises to Nigerians, particularly in stimulating the economy for job creation, anti-corruption campaign and security of lives and property.
Adesina, who is the Special Adviser on Media and Publicity to the President, said this while addressing a delegation of Northern Youths Initiative for Peace and Good Governance on Tuesday in Abuja.
The presidential aide urged Nigerians to keep faith with the current administration's commitment to take "Nigeria to the Promised Land."
"I am glad that majority of Nigerians are still with President Buhari.
"The excitement and jubilation around the country that greeted his return to Nigeria recently is a clear testimony of the love, confidence and belief which Nigerians have in his leadership.
"We are witnessing a positive turn around in the economy, agriculture, the fight against corruption, job creation and I am very confident that President Buhari will lead Nigeria to the Promised Land before the mandate given to him by Nigerians lapses in 2019.''
Adesina, who was bestowed with the Sardauna Leadership Award, 'Icon of Societal Transformation', commended the Group for the honour.
He said that he was motivated to serve in government because of the personality and integrity of President Buhari.
In his remarks, the President of the Northern Youths Initiative, Comrade Muhammadu Abubakar described Adesina as an exemplary leader.
"You are a Goldfish that has no hiding place.
"We northern youths, under the aegis of Northern Youth Initiative for Peace and Good Governance honour you as Garkuwan Matasan Arewa (the shield of Northern Youths).
"For your invaluable contributions to the country and inspiring role to the upcoming generation,'' he said.