The National Missioner of Ansar-ud-Deen Society of Nigeria, Shiek Abdul-Rahman Ahmad has appealed to Nigerians to continue to pray for President Muhammadu Buhari to have a good health so as to steer the ship of the country to greater heights.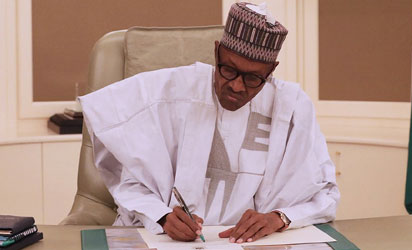 Shiek Ahmad made the plea at a special prayer organised by Ansar-ud-Deen Society of Nigeria, at its Headquarters, Lagos, beseeching Allah to grant the President good health and peace in Nigeria.
Members and leaders of the society were drawn across the country for the special prayers with Sheikh Ahmad leading the session.
The National Missioner while speaking shortly after the prayer session, said every Nigerian leader, either as the President, Governor, Senator or legislator deserved regular prayers from the people for God to guide him or her aright in the herculean task of governance.
According to Sheikh Ahmad, "the essence of the prayers is to ask Allah for help over the President on his health and ask for peace in the country.
"People are angry, hungry, and suffering. We are not saying, the President is responsible, but, he should look into the issues of economy such as foreign exchange and youth unemployment.
In his remark, the National President of the society, Alhaji Abdul Lateef Okunnu, however, commended President Buhari for doing great work to sanitise the country and return it to the path of greatness.
Alhaji Okunnu pointed out that the prayer becomes imperative to seek God's guidance, protection, wisdom and knowledge for President Buhari to lead the country right.
The National President also urged Muslims in Nigeria to pray for the President and the country, adding that, the religious leaders in the country need to encourage their people to pray for the leaders and the country.The congregation recited Holy Quran and other supplication to beg Allah to put an end to recession, insecurity, and other vices in the country.