Gov. Ibikunle Amosun of Ogun on Wednesday described Acting President Yemi Osinbajo as a great gift to the country.
Amosun disclosed this shortly after he visited Osinbajo at the Presidential Villa to felicitate with the acting president on his 60th birthday.
He said that Osinbajo, who hails from Ogun, had lived up to the 'Ogun Standard'.
"He is a gift to Nigeria and he is doing a wonderful job, so we are happy with him. "So happy birthday to him. "He has been saddled with some responsibility and he is doing it so well.
"So we are happy that he is living up to who we are from Ogun State, what we call Ogun standard.'' The governor wished the acting president many happy returns in good health and prosperity.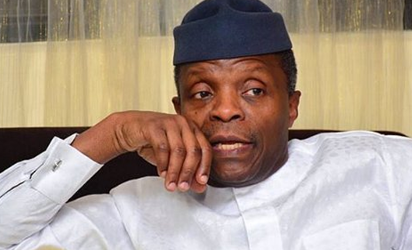 Also the Finance Minister, Mrs Kemi Adeosun, another Ogun indigene, said the citizens of Ogun "are very proud of him at 60'' and should emulate his virtues.
"He is an incredibly hardworking, humble person and I think Nigeria has been blessed to have such a wonderful person as the acting president, Mr Vice President. "He has real passion about this country and has so much integrity and we just wish him all the best.
"We wish that more generations of Nigerians will be inspired by him, by simplicity, humility, hard work, and intelligence.''
The State House Press Corps also felicitated with Osinbajo on his birthday. In response to the Press Corps' gesture, Osinbajo said he felt no difference because of his new age.
"I think I am frankly not different from yesterday but I must say that it's the work of grace and I just feel so blessed. "First, that I am 60 and secondly that one is in good health and able to serve one's country. "I think it's just grace and a great deal of blessings from the Almighty God. ''So I really feel very happy; very fulfilled and frankly very thankful to God.''