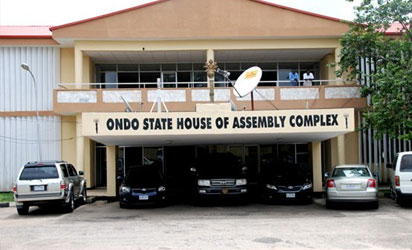 ONDO ASSEMBLY
By Dayo Johnson
Akure—GOVERNOR Rotimi Akeredolu of Ondo state has disowned a faction of the members of the state House of Assembly laying claim to its leadership.
Instead, he asked the two factions to resolve their difference which has halted parliamentary business for about two months.
Consequently, the two factions are billed to meet this week to resolve the differences.
Vanguard gathered that the faction led by Malachi Coker which sacked the former leadership met with the new governor on the need to recognize it.
But to their chagrin, sources at the meeting said the governor pointedly refused their request and the permission to allow the sealed chambers opened for their faction for parliamentary proceedings.
Vanguard was informed that the 13 lawmakers were disappointed by the governors advise them.
However,the Assembly was  opened to workers yesterday after they were sent packing during a bloody protest that rocked the assembly recently.
Inside source said that the  governor told the Malachi-led group that as a leader it would be morally wrong for him to take side with either of the warring factions.
The governor said the two factions would be doing themselves and the state proud by coming together for a genuine re-conciliation instead of pursuing individual interests.
While the faction led by the  sacked speaker, Jumoke Akindele, wanted the House to reconvene offering to resign, the Malachi faction insists she had been removed as the speaker  and could therefore not preside over the affairs of the Assembly.
She however  insisted that the change in the leadership by the 13 members was against parliamentary guidelines, and therefore null and void.
Contacted the Chairman House committee on Information Siji Akindiose told Vanguard that all the 26 members will be meeting yesterday to find a lasting solution to the "misunderstanding amongst them."
Akindiose said the lawmakers belong to one family and what happened in the assembly could have been avoided if the other faction had asked questions and wait for answers before wanting to bring down the roof.
Meantime, governor Akeredolu may not make any appointment this week following his inability to make up his mind on who becomes the Secretary to the State Government, SSG.
Inside source hinted that once the governor makes up his mind on the right candidate for the SSG, the candidates for the two other positions, Chief of Staff and Chief Press Secretary to the governor will be announced.