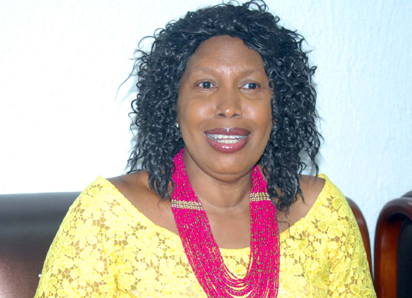 TAIWO-OBASANJO
Mrs Taiwo Obasanjo, wife of former President Olusegun Obasanjo, on Monday filed a suit at an Ikeja High Court, seeking to stop the wedding of her son, Olujonwo Obasanjo, scheduled for May 11.
Ex-President Obasanjo and the father of the bride, Sir Kessington Adebutu, promoter of Premier Lotto known as "Baba Ijebu" are respondents to the suit.
Mrs Obasanjo, who is the twin sister of Chief Kenny Martins, the former Coordinator of the Police Equipment Fund, is seeking a postponement of the wedding of her son, Olujonwo to Tope Adebutu scheduled for May 11 and May 12.
She wants the wedding to be fixed for a date after June 1.
Olujonwo and Tope had an elaborate introduction on Dec. 17, 2016 with the social media awash with photographs of the event.
Obasanjo, among others, is seeking a court declaration that as the mother of the groom, she had the rights to take part in the deliberations, decisions and activities leading to the forthcoming ceremony.
According to her, wedding invitations have been sent out and she has been excluded from the preparations for the ceremonies.
She said she also received prophesies and warnings from men of God to the effect that Olujonwo, her son who turns 34 on June 1, should not do or be involved in any elaborate celebration before his birthday.
The woman wants the court to compel Adebutu and Obasanjo to shift the wedding to a date after June 1 after she had appealed to Adebutu and Mrs Rosemary Dacosta, the mother of the bride, Tope Adebutu, the bride-to-be as well as Chief Kenny Martins.
Justice Lateefa Okunnu has fixed April 10 for hearing of the suit no. ID/262FPM/2017.