By Daud Olatunji
ABEOKUTA—As part of his 80th birthday celebrations, former President, Chief Olusegun Obasanjo yesterday donated 12 tortoise story books written by him to some public and private schools in Ifo Local Government area of Ogun State.
Obasanjo, who was accompanied by his wife, Bola and his close associates at the ceremony tagged: "Story Time with Baba at Ibogun" sat among the pupils of the Baptist Day School, Ibogun, where he had his primary school education, telling them folk tales.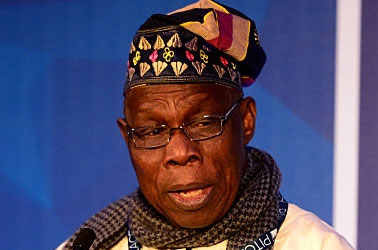 The former President witnessed the reading of folklore, fables and drama presentation with pupils drawn from Baptist Day school, Ewupe, Baptist Primary School, Ibogun, Beryl Chrysolite school and Olusegun Obasanjo Academy Centre all in Ifo local government area of the state.
The former president recalled that while growing up in the community, his parents and other community leaders usually gather young children , including him, under the moonlight to give them.
The elder statesman, however, expressed concern that such practice had been jettisoned by parents and thereby denied the children of a good platform to build character.
The chairman of the celebration planning committee and Director of the Centre for Human Security of the Olusegun Obasanjo Presidential Library, OOPL, Prof. Peter Okebukola had earlier described the former President as a great writer and author with several books to his credit.
The occasion also witnessed the celebration of Chief Obasanjo by his Ibogun kinsmen and women, where he was presented with  gifts by individuals and groups.