*meets with Cabinet members, Service Chiefs.
*says Osinbajo "ll continue acting
By Levinus Nwabughiogu
ABUJA-Fifty one days after he left for London, United Kingdom, President Muhammadu Buhari on Friday returned to Abuja, capital city of Nigeria.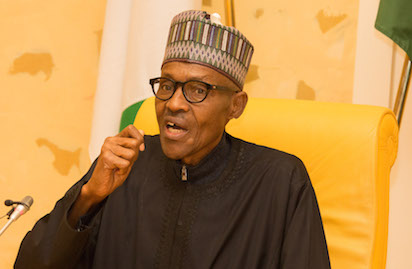 The inklings of his return became public knowledge late Thursday night when his media adviser, Mr. Femi Adesina issued a statement that the president was being expected back early Friday.
Recall that the President left the shores of the country precisely on January 19, 2017 with a promise to come back on February 6.
But due to medical advice to run some recommended tests by his doctors whom he consulted while in London, the president couldn't return on the February date.
Meanwhile, hardly had the president spent a day in London upon his arrival than a sweeping speculation took the air that he was dead.
To dissuade the minds of the people, the national leader of All Progressives Congress, APC, Asiwaju Bola Tinubu and former National Chairman of the Party, Chief Bisi Akande visited him in London.
Later, the Wife of the President, Aisha also visited.
Similarly, the Senate President, Bukola Saraki and the Speaker of the House of Representatives, Yakubu Dogara also visited.
President Buhari was later to engage in a series of calls with many dignitaries amongst whom were President Donald Trump of the United States of America, former Head of State, Gen. Yakubu Gowon and former President Olusegun Obasanjo.
Two weeks ago, the President called the members of his media team made up of the Minister of Information, Lai Mohammed, Presidential Media Adviser, Femi Adesina and the Senior Media Assistant, Garba Shehu thanking them for "holding out against mischief makers".
The last person the President saw in London before leaving the city was the Bishop of Cantabury, Justin Welby.
Upon his arrival at the Presidential Villa, Abuja at about 8:37, the president was received by some key officials of his government who were already gathered at the Aso Presidential Villa Helipad as early as 7:00am.
Among the officials were Vice President,Yemi Osinbajo,Chief of Staff to the President,Abba Kyari, Special Assistant to the President on Media and Publicity,Femi Adesina, Minister of Federal Capital Territory,Mohammed Bello,National Security Adviser,Babagana Mongunu,Inspector General of Police,Idris Abubakar, all the Service Chiefs among others.
The president after exchanging banters with the officials was driven to the First Lady's Conference room located inside the Villa for a brief meeting.
What Buhari told Ministers, Service Chiefs
Speaking at the meeting, the President said that he had blood transfusion and ran a series of medical tests.
He remarked that he had never been so sick all his life.
While thanking Nigerians for their prayers, he said that he needed more time to rest, saying that Vice President Osinbajo who had been acting in his stead while away would continue to act.
The president who said that the best way to pay Nigerians for their prayers was to rededicate himself to public service however said he would go back to London in a few weeks time for more medical check ups.
President also stated that the financial implication of his medicals was not lost on him.
He said: "I am deeply grateful to all Nigerians Muslims and Christians alike who have prayed and continued to pray for my good health. This is a testimony that in spite of the hardship being experienced, Nigerians support the government in its efforts to tackle our country's challenges.
"The best way for me to pay you all is to rededicate myself to serving you, protecting your interest and keeping your trust. I thank you very much.
I feel much better now.
"All I will need is to do further follow ups within some weeks.
"Rather than sending delegations to Abuja to welcome me, may I appeal to our people to continue to pray for the country's unity, progress and prosperity. I thank you very much and may God bless our country.
"There is a remarkable difference between what happened now and what happened last year.
"When it was getting to Christmas, I told the Vice President, I know he has got a church therefore he has to go home. I said Ok let us do it turn by turn, you go for Christmas and the New Year and when you come back I will go. He said yes. I suspected he didn't go home, when he came back. I said ok it will be my turn in some months time. This time around I said we better do the same.
"I didn't know he had the same principles, but for me I feel that I was a little more tired than I probably was in last eighteen months. Whatever the case, I am very grateful that Nigerians are appreciative of what all of us are doing as a group. I am very pleased with them.
"I am cost conscious and I think the VP knows about the expenditure. So please if you were clever enough reroute your way, stay on your official duties either from US back to Nigeria.
It was a battle please don't be too upset
"I am very conscious of the economy. I have rested as much as humanly possible, I have received I think the best of treatment I could receive. I couldn't recall being so sick since I was a young man, including the military with its ups and downs. I found out that technology is going so fast that if you have a lot of confidence you better keep it because you need it.
"Blood transfusions, going to the laboratories, and so on and so forth, but I am very pleased that we, when I say we, I mean the government and the people all over are trying to keep up with technology.
"I couldn't recall when last I had blood transfusion. I couldn't recall honestly, I can say in my seventy years.
I couldn't remember this drug that Nigerians take so much, very common.
"I think one of our terrible things is self drug administration. We have to trust our doctors more and trust ourselves more.
"Having said that I am pleased that I am back, I am pleased that the Vice President enjoyed this break and he has to do much more this time around. Youth and intellect is squarely behind him, age and purely military experience is behind me.
"Continue to do the work, Nigeria will continue whether we are here or not and my single most important advise is take education of everybody under your responsibility very seriously, your children our relatives, our constituencies, education, education education. We must do more on education. I deliberately came back towards the weekend, so that the Vice President will continue and I will continue to rest. Thank You very much"
While making his remarks on behalf of the Federal Executive Council, at the meeting, Vice President Osinbajo thanked the president for the confidence reposed in him of acting on his behalf.
He said it was a day of joy for him and the cabinet members receiving the president back to the country "hale and hearty".
He said: "It is a day of joy not only for us but for the whole country, Africa and the World. Your arrival has vindicated our position that you will return safely.
"Mr president, again on behalf of FEC, we welcome you back home. We are very grateful to God that you are back home hale and hearty. Mr president, I must say that personally, this has been a very interesting few days for me."
Osinbajo thanked President for respecting the constitution and enthrusting to him before traveling, noting that it was a tough job, "going around in borrowed robes"
He said: "First, I must say that I want to thank you very much for the confidence reposed in me by handing over the realm of govt to me in the capacity of acting president.
"I think more important is that you demonstrated the belief in our system which is even more important than anything else.
"The constitution which we all swore to is important because it outlines the code of conduct. I want to say not only am I, but I am sure the entire nation is grateful to you.
"For me, I must say that it has been an interesting period going around the nation maybe because the roads are bad. I must say I had a very interesting and challenging time but above all, the president gave us the good support", he said.
Also speaking, the Minister of Information, Lai mohammed said they had been vindicated by the president's return.
He also thanked all Nigerians for their prayers that kept them going even as he expressed gratitude to Osinbajo for giving them a sense of belonging.
In his own remarks, the Chief of Defence Staff, Gen. Abayomi Gabriel on behalf of the Service Chiefs and armed forces thank God for bringing the president back safely.
He said that they will ensure that the president's desires for the country in security will be achieved.
Similarly, the governor of Zamfara state and Chairman, Nigerian Governors Forum, Abdullaziz Yari on behalf of the 36 governors of Nigeria also welcomed the president back home.
The president later retired to his official residence at the Villa.
Also the Presidency stated that President Muhammadu Buhari would write the National Assembly to formally inform them of his return on Monday next week.
Special Adviser to the President on Media and Publicity, Femi Adesina in a tweet on his handle on Friday afternoon said the letter will make the president's return to work formal, and constitutional.
"PMB will Monday transmit letter to N' Assembly on his return to the country. That makes his return to work formal, and constitutional," he twitted
It will be recalled that Buhari left Nigeria for London, United Kingdom on January 19 for a vacation.
He had before his departure written to the National Assembly, informing them about his trip abroad, promising that he would return to resume work on February 6.
He however wrote again to update the National Assembly when he later failed to return on the said date due to further medical tests recommended by his doctors.
Only yesterday, the president made a surprise come back to the country.
Subscribe for latest Videos