The Minister of Communication, Mr Adebayo Shittu, on Wednesday said government would provide an enabling environment for the youths to thrive digitally.
Shittu said this during the media briefing organised by Google to mark the Digital Skills for Africa to reach one million people, tagged: Digital Million Milestone.
The minister was represented by Mrs Monisola Udoh, the Director, Information Communication and Technology (ICT) of the ministry.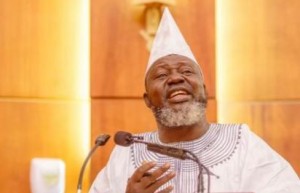 According to Shittu, the impact the training will have on the youth will be enormous, therefore there is need for government to key into the Google training.
"There is need for proper policy and guideline that will make way for an enabling environment for the youths to thrive digitally,'' he said.
Shittu said that government had a major role to develop the human capacity and ICT was a platform that they would leverage upon.
He said that Nigeria had a good productive age group and their energy should be harnessed, which Google could make globally competitive.
Mr Smart Akande, the Legal Adviser, Office of SSA to the President on Sustainable Development Goals said that one of the goals of government was to remove poverty in the country and Google Digital Skills training was an avenue to do so.
"When the economy is not growing, poverty thrives and the bulk of people that will be affected are the youths and our major concern is graduates that do not have access to digital skills.
"Today, we are saying recession is everywhere, it is the aggregate of all efforts will bring the country out of recession,'' he said.
Akande said that in the nearest future with this kind of skills training, Nigeria would be transformed to be better informed to compete at international level and the economy all to be better.
Mr Tayo Olosunde, the Managing Director, Mindthegap, said that  young people want to be successful as such needed the opportunity to launch out.
Ms. Bunmi Banjo, the Head of Brands and Digital Skills at Google Nigeria, said that the journey to one million was to figure out what could be done to help the economy progress.
According to her, making sure that there is an impact on the trainee was the next thing on the mind of Google.
"Having one million digitally skilled young people in Africa is good for everyone.
"If young people have the right skills, they will build businesses, create jobs and boost economic growth across the continent.
"How to connect the young people in Africa for them to better utilise the internet as a person or as a Small and Medium Enterprises to create jobs and help people in the community is our goal.
"There is need for Africans to also contribute to the digital economy,'' she said.
Banjo said that the 27 countries participated in the training of which 97 per cent was done offline while three per cent was online and that 53 per cent were men while 47 per cent were women.
She said that out of the one million trained, 500,000 were from Nigeria, attributing that to the support it got from government and the private sector.
Banjo said that going forward Google would develop an offline kit that did not have access to data, adding that local languages would be introduced more to focus on women to bridge gender gap.
She said that an impact accessing programme would also be conducted to make sure that the training they got was better utilised.
Some of the beneficiaries of the Google Digital Skills for Africa One-Million Milestone are Oluwamayowa Oshidero (Ibadan), Vanessa Morris (Lagos), Tele Williams-Aina (Lagos), Vanessa Mbaramah (Coutonu) and Segun Abodunrin (Lagos).
A trainee, Morris said: "I learnt to do things strategically and that came from the tools and skills I got from the training.''
Another trainee, Abodunrin said that the training provided a platform for him to access businesses that would help him to succeed.
Earlier, the Google Country Manager, Mrs Juliet Ehimuan-Chiazor, said that the web was a driver of economic growth and was transforming society as a whole.
According to her, people must be equipped through training and re-skilling to make use of the tools and take advantage of it for entrepreneurship, employment and e-inclusion.
The Digital Skills for Africa programme was aimed to help close the digital gap in Africa, improve employability and encourage entrepreneurship among young people.