…As 23, 000 mt hit market
By Gabriel Ewepu
ABUJA—FOLLOWING the arrival of phosphate and potash from Morocco as major components for fertiliser blending in the country, the Fertiliser and Suppliers Association of Nigeria, FEPSAN, disclosed that the Federal Government will save N60 billion with current production and supply of fertilisers in the country.
This was made known by the National President, FEPSAN, Thomas Etuh, while on a Presidential Fertiliser Monitoring Tour to fertiliser blending companies, under the Presidential Fertiliser Initiative, PFI.
The team also visited the AI-Yuma Fertilizer Company (300, 000 metric tonnes) in Madobi-Kano and Kano Agricultural Supply Company, KASCO, supplying 15 trailers daily.
Others blending plants have also received raw materials for blending activities. Funtua blending plant has received materials through the rail.
Etuh said the various blending plants will produce and supply farmers 1 million metric tonnes of NPK fertiliser for 2017 wet season farming and 500,000mt for 2017 dry season farming.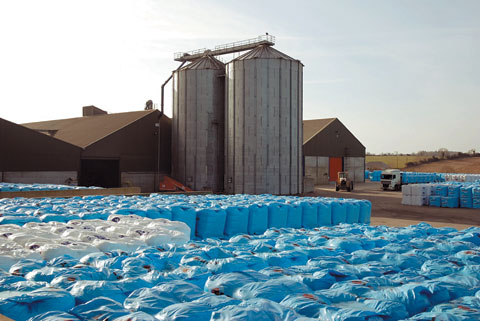 According to him the upscaling of production of the commodity will make it available for farmers at N5, 500, which already Kebbi and Jigawa States have taken delivery of the product as other states are on queue to be supplied.
He said: "The Presidential Fertiliser Initiative is a child born out of expediency. This idea came out of the need to solve the problem of perennial unavailability and unaffordability of Fertilisers, and more recently the sharp increase the price of NPK fertiliser, which reached an all time high of between N9, 000 to N10, 000 in 2016.
"The presidency in her resolve to halt this trend invited the Fertiliser Producers and Suppliers Association of Nigeria, FEPSAN, an umbrella association of the fertiliser industry on how can we make fertiliser available and affordable nationwide.
"As a result government was able to help leverage on accessing imported raw materials, especially phosphate and potash." while urea and limestone granules were sourced locally.
"Immediate benefits for the local production and supply to farmers in the country have been enormous. It has helped to eliminate subsidy on fertiliser by making the Federal Government save at least N60 billion in budgetary provisions for fertiliser supply for 2017.
"Production has started in no less than six of our blending plants, while others are under maintenance and should be joining before the end of April.
"Delivery of finished products has started to arrive some states and agro dealers. We have supplied more than 23, 000 mt already to Jigawa and Kebbi States and some dealers.
"More than 80 per cent of states in Nigeria have indicated interest to off take and they have stated to receive goods. We have also registered 3, 500 agro dealers scattered all over the nation."
In his remarks, Managing Director, Fertilisers and Chemicals Limited, OM Rakesh Panda, expressed hope that if there will be sustained funding production will continue and sustained.
"Why blending plants is not profitable business but with hope that with high demand and the hope that state government pay in time the project will make some profits because you are employing many people, you have so many taxes with many responsibilities on your head", Pandya stated.
The Managing Director, AI-Yuma Chemicals and Fertiliser Limited, Ado Yazid Ibrahim, applauded the move by the government and FEPSAN and said that, "The key is for the farmers to get their supplies directly from the blending companies at a low cost."
Subscribe for latest Videos