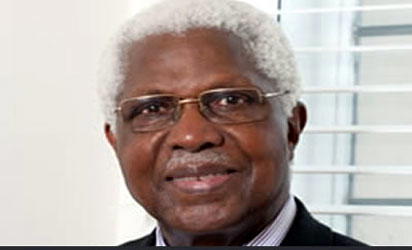 Dr Ekwueme
By Nwabueze Okonkwo
ONITSHA— Arrangements have reached an advanced stage for the installation of Dr. Alex Ekwueme, Second Republic Vice President as the live patron of Oko Sports Club in Orumba North Local Government Area of Anambra State.
The installation ceremony, which is expected to take place in April at the club premises, would also feature the inauguration of the president-elect of the club, Dr. Oliver Chux Ezeobi, and other executive members.
A statement from the captain of the club, Joseph Ogai, confirmed that the occasion would feature the installation of patrons of the club and award-giving ceremony to citizens of the country, including Chief Ben Ezeibe (a.k.a Ben Coopers), one time president of Anambra State Lawn Tennis Association and Chief James Ezeifeoma, Managing Director of Jinifa Group of Companies.
Ogai further confirmed that royal fathers of the day would include Igwe Laz Ekwueme of Oko, Igwe Peter Anugwu of Mbaukwu, Igwe Felix Ebelendu of Agulezechukwu, Igwe Mike Okechukwu of Awgbu and Igwe Emmanuel Onyeneke of Ekwulobia.
He further stated that pre-event tournament, cultural display and inter-club lawn tennis tournament would take place during the occasion which is aimed at projecting charity work and creating fitness awareness, as a reputable sports club formed in the early 80s and formerly known as Chalk Valley Recreation Club.