By Gabriel Enogholase
BENIN—AS sitting continued at the Edo State Governorship Elections Petitions Tribunal, sitting in Benin City, some of the witnesses called by Mr Godwin Obaseki, second respondent,  yesterday, indicted Independent National Electoral Commission, INEC, for not training them on proper accreditation procedures during the elections.
It was the fifth day, out of the 10 days allowed for Obaseki in the petition by the Peoples Democratic Party, PDP, and its governorship candidate in the 2016 Edo governorship election, Pastor Osagie Ize-Iyamu, challenging his declaration as winner of the election by INEC, to lead witnesses to advance his defence.
Shortly after Obaseki's counsel, Ken Mozia, SAN, got the approval of  the tribunal to correct an error in a witness' deposition from Oredo Local Government Area to Egor Local Government Area, the first witness, Mr Eddy Igbinogun, from Egor told the tribunal that  INEC officials carried out accreditation and voting in his unit, although he admitted that  neither the INEC nor his party, the All Progressives Congress, APC, trained him on how to function during the elections particularly how the accreditation should be carried out.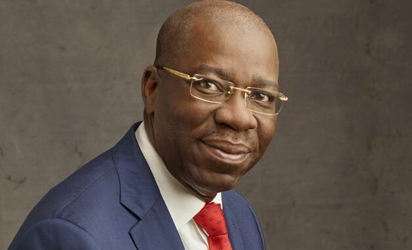 The second witness, also from Egor council, while being cross-examined was unable to explain a line, "Figment of his imagination," in his deposition, claiming that it was a lawyer that inserted the clause.
The third witness, Mr. Monday from Orhionmwon Local Government told the court that due accreditation and voting took place in his unit, however, under cross examination by  Kemi Pinheiro, SAN, counsel to the petitioners, who  showed him the voters register for his unit, it was discovered that there was no accreditation of any form.
Mrs. Felicia Amadin, also from Orhionmwon caused a stir during her testimony in the witness box, while being cross examined counsel to the petitioners, Kemi Pinheiro.
Asked to clarify a point in the voters' register, she said her reading glasses were at home even as she screamed at the counsel, "I am a woman ooo. Is it because I am a woman you are pressing me like this."
The comment amused the entire court, whereupon the tribunal chairman, Justice Ahmed Badamasi advised the PDP counsel to, "Please press her gently."
Apologising Pinheiro, said,   "Sorry that I pressed you."
Another witness, called by Obaseki, Mr. Eric Eromosele from Orhionmwon council, who was being cross- examined at press time, told the court there was accreditation before voting in his unit, and that this can be confirmed from the voters register for his unit.