By Jimoh Babatunde
The wife of Edo State Governor, Mrs. Betsy Obaseki, has urged women not to allow themselves to be constrained by cultural norms and stereotypes but to be more assertive and ready to contribute significantly to society's development.
Speaking at the distribution of 4,000 specially bred chickens to 100 widows selected from across the state as part of the activities marking this year's celebration of International Women's Day, she said the occasion provided another opportunity to re-emphasise the need to dismantle the barrier which prevents women from realising their potentials and contribute fully to the economic and socio-political life of their communities.
The distributed chickens were locally bred by Amo Farms Limited and capable of surviving any local condition in Nigeria, with each of the layers capable of laying six eggs daily.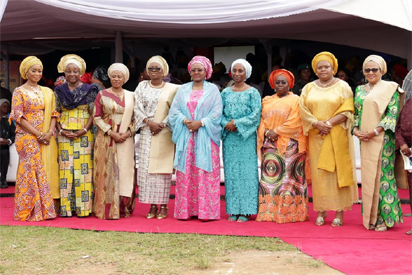 Mrs. Obaseki explained that during her husband's electioneering campaign, he promised to adopt 100 widows by empowering them with monthly stipends, but she encouraged him to empower them with something with which they could make money for themselves.
She disclosed that when her husband bought her idea, she invited the management of Amo Farms which had benefited from a loan scheme she coordinated at the Bank of Industries, to bring the pilot project of the special breed chicken to Edo State.
"With our partnership with Amo group, I believe female presence will be recognised and our women given more important roles because a society desirous of development cannot afford to treat them with less significance, the issues and voices of half of its population.
"We must once again bring to the fore the challenges surrounding the education of the girl child, which is a vital component of the development of the society. If we are to sustain the effort made at empowering our women, we must continually use the instrument of education like what Amo group brings on board to close the gap," she said.
The Managing Director of Amo Farms Limited, Dr. Ayoola Oduntan, explained that Amo Boiler is multicoloured dual purpose breed cross suitable for back yard rearing. According to him, the breeder stocks are well vaccinated and maintained under stringent Bio security to produce a chick with good livability and excellent performance.
He disclosed that his company would hatch no fewer than 1.5 million of the special chickens, adding that the company is proposing to build the largest abattoir in Nigeria in Edo state to process chickens raised in the state.
"The offspring will have a good disease resistance like a native chicken and the fast growing character of the bird helps in less brooding efforts, less fat, tasty and higher meat yield compared to native birds.