By Bartholomew Madukwe
Chief Executive Officer of Dangote Cement Plc, Onne van der Weijde, has assured investors of better returns on their investment, saying the company sold 8.6 million metric tons of cement outside Nigeria, which is 54 per cent more than that of 2015.
He stated this at the 2016 full year audited results presented on the floor of the Nigerian Stock Exchange, NSE, in Lagos.Weijde noted that the company had finally ended the era of Nigeria's dependence on importation, following exportation of 0.4 million tons of the product to other countries in 2016.
"The export is significant given that the nation used to be a net importer of cement. As at 2011, Nigeria was one of the world's largest importers of cement, buying 5.1 million metric tons of foreign cement at huge expense to the country's balance of payments," Dangote's CEO said.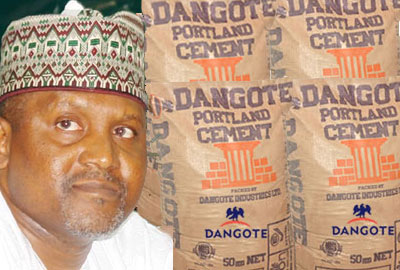 He pointed out that the company's Pan-African cement plants continued to perform well, contributing significantly to its turnover and profitability.
According to him, "the New Year has started well and we expect much higher profitability in Nigeria in 2017, even though we may not see the volume growth we achieved in 2016. I am confident that we will deliver an even stronger performance in 2017 as we increase market share and extend our reach across Africa.
"The economic challenges notwithstanding, Weijde revealed that Dangote Cement achieved sales and revenue growth of 25 per cent and consolidated its position as Africa's leading producer of cement."
While sales from Nigerian operations increased by 13.8 per cent to nearly 15.1 million metric tons at a growth rate far higher than the country's GDP, which fell in 2016, its total revenue leaped by 25.1 per cent to 615.1 billion. To the delight of the investors, Dangote Cement earnings per share increased by 4.5 per cent to ¦ 11.34 and the dividend payout to the shareholders also increased significantly by 6.3 per cent to N8.5 kobo per share.It would be recalled that Dangote Cement is Africa's leading cement producer with nearly 46 million metric tons' capacity across Africa. It is a fully integrated quarry-to-customer producer with production capacity of 29.25Mta in Ni