By Gbenga Olarinoye Osogbo
A Federal High Court, sitting in Osogbo, Osun state capital, has restrained Osun state government from implementing the new increment in filing fees, issued on February 24, pending the determination of the substantial suit before the court.
The Chairman and Secretary of Ilesa branch of the Nigeria Bar Association, NBA, Messrs. E. O. Ogunfunminiyi and Femi Fafowora, had on behalf of the association, sued the Attorney General of the Federation and Governor Rauf Aregbesola, on the new filing fee, introduced by the state government.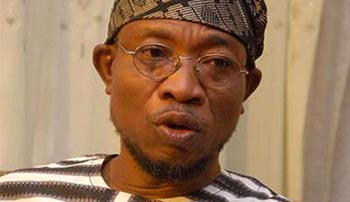 Also joined in the suit No: FHC/OS/CS/06/2017, is the Chief Judge of Nigeria, Chief Judge of Osun state, President Customary Court of Appeal, Attorney General & Commissioner for Justice, Osun state and the Chef Registrar, High Court of Justice, Osogbo.
The NBA is seeking an order of interim injunction, restraining the respondents from giving effect to the content of circular dated "February 24, 2017 and signed by one Taiwo Jacob (Principal Registrar, Litigation of the High Cort of Osun State."
"An order, directing the maintenance of status quo ante and suspension of all actions, proceedings, implementation of the circular issued on the directive of respondents, pending the hearing and determination of the motion on notice.
In the ruling, Justice Maureen Onyetenu, granted the prayers of the NBA and adjourned the case to March 16, 2017, for hearing.
The Chairman of the Forum of NBA chairmen in the State, Mr Marice Olufisayo Okediya said the association had boycotted the court since February 27, in protest against the new increment of filing fees introduced by the state government.
Okediya said the lawyers championed the matter in defence of the downtrodden who might not be able to afford the exorbitant fees that was introduced by the governor and vowed that the NBA would pursue the matter to a logical conclusion.
He said Governor Aregbesola had run contrary to law in his directives for the implementation of fines and charges payable in court.
Okediya stated that activities would resume immediately the defendants comply with the restrain order.
who spoke on behalf of the lawyers in the state said the order of Justice Maureen Adaobi Onyetenu which restrained the governor from implementing the increment in the filing fees was in the best interest of the common man.
Okediya explained that with the order of the Federal High Court, the old fees would be maintained in all the courts in Osun until 16th of March, 2017 when the matter would come up again for hearing.
The lawyers in the state have shunned the courts since Tuesday, 28th of February over the hike in the filing fees. Okediya assured that the lawyers would return to the courts as soon as the state governor obeys the court order.