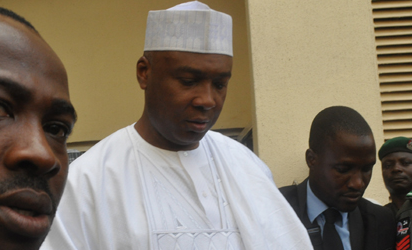 Bukola saraki
By Henry Umoru
ABUJA — THE Senate will today screen and perhaps,subsequently confirm Justice Walter Onnoghen as the substantive Chief Justice of Nigeria, CJN.
Senate President, Dr Bukola Saraki, who disclosed this during plenary, yesterday, said the screening would take place at 11 am.
Saraki had last week confirmed receipt of a letter from Acting President, Prof. Yemi Osinbajo, requesting the Senate to screen and confirm Walter Samuel Nkanu Onnoghen as CJN.
Reading Osinbajo's letter, dated February 7, 2017, Saraki noted that the Senate was urged to confirm Onnoghen pursuant to Section 231 of the Constitution of the Federal Republic of Nigeria.
The letter read: "Following the recommendation of the National Judicial Council, NJC, I hereby notify you of the appointment of Hon. Justice Walter Onnoghen as Chief Justice of Nigeria, CJN.
"The Senate President is requested to kindly present the said appointment of the Honourable Justice Onnoghen for confirmation by the Senate of the Federal Republic of Nigeria, pursuant to section 231(1) of the Constitution of the Federal Republic of Nigeria.
"Please accept, Mr. Senate President, the assurances of my highest regards."
Onnoghen was on November 7, 2016, appointed in acting capacity which was to elapse in three months on February 10, 2017.
Onnoghen is the most senior judicial officer having about seven more years in service.
Controversy had brewed over President Muhammadu Buhari's delay in sending his name to the Senate for confirmation as CJN.
But the tension was doused when news that the president had asked the Senate to confirm him filtered in.
Onnoghen's tenure as acting CJN was due to elapse on February 10, but it was only two days before the time that the presidency communicated to the upper legislative chamber on his confirmation.
However, the senate could not consider the request because it was on a three-week recess.
The National Judicial Council (NJC), which had nominated Onnoghen for the position, re-nominated him on February 9 – a day before the expiration of his three-month tenure.
Onnoghen is from Cross River state. He is the only CJN from the south in 30 years