THE Nigerian government, through the Youth and Sports Ministry, has further endorsed the candidature of Nigeria Football Federation President Amaju Pinnick for a seat on the Executive Committee of Confederation of African Football, at the polls scheduled for next month's Congress in Addis Ababa, Ethiopia, the NFF said in a press release on Tuesday.
There had been reports that sports minister Solomon Dalung was against Pinnick's open support for Madagascar's Ahmad's bid for the CAF presidency in the March elections.
However, at a meeting convened by Dalung in Abuja yesterday, Pinnick and members of his Executive Committee briefed the minister, and Dalung said the government of Nigeria had given its blessing to Pinnick's quest and will fully support him.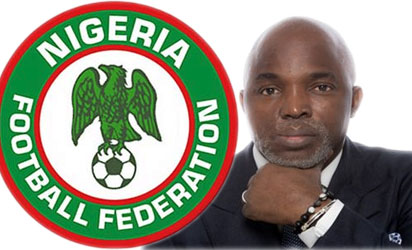 Dalung also conceded that Pinnick should use his discretion to vote for the candidate who will best serve Nigeria's footballing interest during the CAF presidential election. It was agreed that the interest of Nigeria should be paramount in all calculations.
Incumbent CAF president Issa Hayatou of Cameroon, who has been in office since 1988, is being challenged by Mr. Ahmad, president of the Madagascar Football Federation.
The meeting also resolved that other stakeholders in Nigerian Football who have suggestions/advice/recommendations should tender same through the NFF and not in the media.
The session was attended by all members of the NFF Executive Committee, except Hon. Suleiman Yahaya-Kwande and Mr. Chidi Ofo Okenwa who forwarded apologies for their absence.
The coast is thus clear for Pinnick, vice president of WAFU B, a member of the Organizing Committee for the Africa Cup of Nations and member of the Organizing Committee for FIFA Competitions, to challenge Beninoise Anjorin Moucharafou for a seat in the supreme club for football administration in Africa, at the 39th Ordinary Congress of CAF in Addis Ababa on Thursday, 16th March 2017.
Only two Nigerians – the late Oyo Orok Oyo and Dr. Amos Adamu – have sat on the CAF Executive Committee in the body's 60 years of existence. An attempt by former NFF President Aminu Maigari to join the club in 2013 was unsuccessful.