..Firewood business explodes, traders celebrate new development
..Bring down prices of cooking gas, kerosene, residents request FG
By Emmanuel Ayungbe & Ike Uchechukwu
UYO—NUMEROUS residents and restaurant operators in Akwa Ibom and Cross River States have abandoned their gas and kerosene cooking stoves, resorting to cooking with firewood and charcoal because of the outrageous prices of kerosene and cooking gas, which have shot to about N400 per litre of gas and N210 – N280 per litre of kerosene.
The development has led to an explosion in firewood/charcoal business in the two states, as NDV findings showed that the demand was very high. At Akwa Ibom, our reporter, who visited homes and self-service restaurants  in Uyo, the state capital and other major cities, discovered that firewood and charcoal have become a major combustible source of energy for food preparation. Some high-class hotels in Calabar, capital of Cross River state, have also switched to the use of charcoal and saw dust for preparing barbecue, instead of electric burners, which were common features until lately. The sudden shift, NDV learnt, was due to the high cost of cooking gas caused by the harsh economic realities and influx of adulterated kerosene.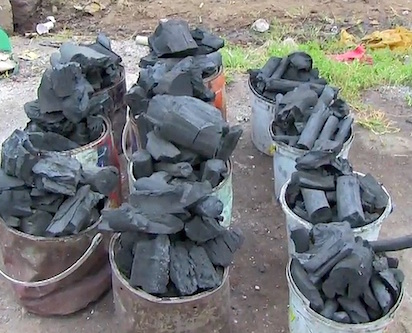 Kerosene costlier than petrol: Ironically, kerosene commonly used by low income earners and petty business owners is now more expensive than any other petroleum product in all the petrol stations visited in parts of the state. Criminal elements also seized advantage of the situation to do brisk business by adulterating kerosene. A litre of kerosene sells for N210 at most filling stations, while petrol sells for N145 per litre. A staff at Robertson Filling Station, along Abak Road, Uyo, confirmed that the high cost of kerosene is the reason why shy-locks taking undue advantage to adulterate the product, which is in high demand and commonly used in most homes.
A senior staff in theMinistry of Education, State Secretariat, Uyo, who spoke anonymously, said: "My house help now uses firewood at home because of cost of buying gas. My gas cylinder takes eight kilogrammes costing about N5,500, which normally will disappoint us even when salaries are not paid." He said he would have preferred kerosene, but for the cost and danger of buying adulterated product, adding: "The price of kerosene dropped recently from N400 per litre to N210 in the filling station, which in most cases is difficult to find, as most filling stations prefer to sell in drums to moneybags, who resell to petty traders at N240 and the consumer is compelled to pay N250 per litre."
Our source said that the price of a litre of cooking gas recently dropped from N700 to N400 due to pressure from consumers. NDV confirmed at James Umeh Filling Station, Uyo, that the pump price is actually N400, but petty business outlets sell at N430 per litre.
Booming business: A firewood dealer, Mr. Daniel Ambition, who owns a firewood warehouse at Atana Ofot Street, Uyo, said he decided to go into firewood business when he observed that people could no longer buy either kerosene or cooking gas without complaining of the cost, as well as the danger associated with storing the product at home. On how he gets his supplies, Mr. Ambition asserted: "I go as far as to Ibiono forest to buy firewood from farm owners; I spend between N5, 000 and N10, 000 to transport the wood from Ibiono forest to Uyo where the price is high because of its high demand." He told NDV that he bought the last stock for N15, 000 and spent N6, 000 to transport them to Uyo and was sure that at the end of the week sales, he would be able to make a profit of at least N10, 000.
Metamorphosis of firewood
One of the oldest female firewood dealers in Calabar, Mrs. Bassey Effiom Ballantine, who has been in the trade for 45 years, told NDV that since 1972 when she started selling firewood, it has never been this good. Her words: "I started selling firewood from when I got married and I lost my husband at a very tender age. I started the business in 1972 and at that time, I sold firewood at the rate of 50 kobo before I increased to N1. It is surprising how things have skyrocketed, I now sell firewood for between N100 and N200 today.
"I will not lie to you, there are so many factors responsible for it, including cost effectiveness, inferno and kerosene explosion, occasioned by adulterated products. People with little children are also afraid to use gas in their homes, cash crunch and lots more have led a lot of families into using firewood."
Mrs. Ballantine added: "I used to buy firewood twice a month before now, but from late 2016 everything has changed. I buy up to four or five times in a month, which means that business is booming and I used to be the only one who sold the commodity around here, but a lot of people have joined the business and they are also making sales, particularly when I do not have."
More outlets: She hinted that some people also use sawdust to cook, but it does not burn fast as firewood and since they have devised a method of washing their pots and other kitchen utensils clean, they do not see the use as a burden anymore. The firewood dealer said that many residents of Calabar South, 8 Miles, Atimbo, Etta Agbor, Barrack Road, Airport Road, Jebbs, Anantigha and Aka Effa use firewood to make their food, adding that she has opened more outlets to meet the rising demand.
Why I changed to firewood— Mrs. Ibok-Ette
A resident of Calabar, Mrs. Esther Ibok-ette, told NDV that she could no longer afford to buy kerosene because of the high price of N280 per litre in the city, adding that at most places where they sell below N280, it has been certainly adulterated. "You must have heard about several cases of explosions caused by adulterated kerosene apart from the fact that it is now expensive, I cannot even risk my life using it, at least for now. I cannot use gas either because all my children are still very small. My first daughter is just seven, so it is very dangerous to have gas in the house. Firewood is cheap and burns faster too and safe," she said.
Firewood is economical— Ekpenyong
Another firewood user, who prepares rice and cow leg delicacy at White House Street in Calabar, Mrs. Monica Ekpeyong, said: "My locally-made stove can take about 12 litres of kerosene, but when the price of kerosene rose to N380, which means for me to fill that stove, I have to buy at least kerosene worth N4, 560, it was really affecting my business, so I decided to switch to using firewood.
"At most, I buy firewood of N400, so you can do the mathematics yourself, even at N250 now, kerosene is still very expensive. The only advantage I had then was that my pots were very clean, but I rob oil on the back now before putting them on fire and it is very fast. Many of my colleagues who make use of the locally made stove have all switched to firewood because it is really affecting their businesses. When you spend about N3,000 to N5,000 for energy alone, then your business can never survive this recession," she said.
Residents plead with FG: A resident, who spoke to NDV at Uyo, appealed to the federal government to intercede and bring down the price of cooking gas and kerosene so that the low income earners would access the product at the official pump price of N50 per litre.
Subscribe for latest Videos