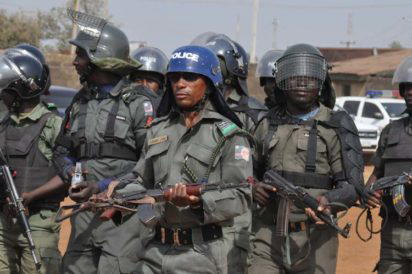 Cross Section of Policemen during the flag off of Operation Harmony in Kafanchan , Kaduna State. Photo by Gbemiga Olamikan.
By Ikechukwu Nnochiri
ABUJA – A High Court of the Capital Territory sitting at Maitama, on Thursday, sentenced two Police officers to death over the nocturnal murder of six traders at the Apo mechanic village in Abuja, in 2005.
The victims, Ifeanyi Ozo, Chinedu Meniru, Isaac Ekene, Paulinus Ogbonna, Anthony Nwokike and Tina Arebun, aged between 21 to 25 years, were motor spare parts dealers.
They were allegedly shot dead by a team of Police men stationed at Gimbiya Street at Garki Area 11 while returning from a night club on June 8, 2005, based on the order of a Deputy Commissioner of Police, Mr. Ibrahim Danjuma.
The Federal Government had in a charge it filed eleven years ago, indicted six police officers over the incident, alleging that they committed culpable homicide contrary to section 220(a) of the Penal Code.
Aside DCP Danjuma, other officers charged with murder were DPO Abdulsalam Othman (now at large), Nicholas Zakaria, Emmanuel Baba, Ezekiel Achejene and Sadiq Salam.
Delivering judgement on the case on Thursday, the Chief Judge of the high court, Justice Ishaq Bello, found only the 4th and 5th defendants, Baba and Achejene, guilty of culpable homicide, based on their own confessional statements.
The court however discharged and acquitted the three other officers, including Danjuma, based on lack of evidence linking them to the actual commission of the crime.
The 4th and 5th defendants were specifically convicted for the murder of two of the deceased victims, Anthony and Tina.
The court noted that the two convicts admitted that they killed Anthony and Tina, who did not die immediately after the shooting incident, to death, based on "a directive" from DPO Othman who is still at large.
According to the record of the court, there was evidence that Anthony was shot after residents of Guduwa Estate in Abuja, found him with bullet wounds and handed him over to the police.
Justice Bello described the action of the convicted policemen as "impunity of the highest order", saying they showed no regard for the sanctity of human life.
The court however held that charges against Danjuma and the two other Police officers were vague.
More details later.