By Tony Ubani in Addis Ababa
AS the zero hour draws near to the 39th CAF General elections holding at the African Union Bulding in Addis Ababa, Nigeria's chances of winning a place in the executive Committee is threatened by Beninoise FA president Anjorin Ayodele Moucharafou. Melvin Pinnick Amaju will square off for West B Zone seat in one of the most anticipated contests for the CAF Executive Committee.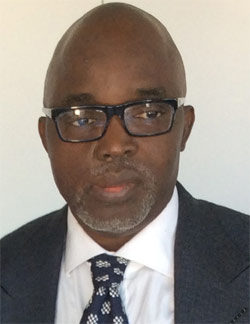 Anjorin who prides himself as a Nigerian living in Benin vowed that he would beat Nigeria's Pinnick like a child in the election. Looking embattled by the alliances of Pinnick with other countries, Anjorin said that Pinnick was walking faster than his shadow. "He's a small boy. He should wait for his time. I waited patiently for Dr Amos Adamu but they ganged up against Adamu because they saw that he was going to be the next CAF President.
If Adamu were to be contesting for this post, I'll never come out. I' ll tell Pinnick that money does not win election but experience and relationship", Anjorin who reminds me of his Nigerian name Ayodele said.
"I like trouble and thrive in trouble. Where there is no trouble, I look for trouble. Now, Pinnick has stoked trouble and I'll consume him like a raging fire", Anjorin said pacing the lobby of Radisson Blue Hotel. Pinnick was busy but volunteered " tomorrow is here".
Also of interest to African football followers is the contest between FIFA Council member Lydia Nsekera (Burundi) and Isha Johansen (Sierra Leone)
for the only female seat on the CAF Executive Committee.
In the West A Zone, incumbent Amadou Diakite of Mali is challenged by Liberia's Musa Bility. Chad's Adoum Djibrine is unopposed in the Central Zone, but incumbent Magdi Shams El Din (Sudan), Juneidi Basha Tilmo (Ethiopia), Suleiman Hassan Waberi (Djibouti) and Moses Magogo (Uganda) will vie for the single seat in Central East Zone.
In the North Zone, incumbent Mohamed Raouraoua (Algeria) faces Anwar El Tashani (Libya) and Fouzi Lekjaa (Morocco).
In the Southern zone, respected South African administrator Danny Jordaan (chief organizer of the 2010 FIFA World Cup) will slug it out with incumbent 1st Vice President Suketu Patel (Seychelles), Rui Eduardo da Costa (Angola) and Frans Mbidi (Namibia) for two seats.
For the African representatives on the FIFA Council, Ghana's Kwesi Nyantakyi will battle Leodegar Tenga of Tanzania for the Anglophone seat, with Ivorian Augustin Sidy Diallo and DR Congo's Omari Constant Selemani gunning for the Francophone seat.
CAF sources hinted on Wednesday that Tunisia's Tarek Bouchamaoui will take the FIFA Council seat for the Arabic/Portuguese/Spanish category, with his opponent Hani Abo Rida of Egypt having been moved to the Open Category.
Following the withdrawals of Jordaan and South Sudan's Chabur Goc Alei from the Open Category, it is a smooth sail for Abo Rida, Guinea's Almamy Kabele Camara and Burundi's Lydia Nsekera, the only female candidate.