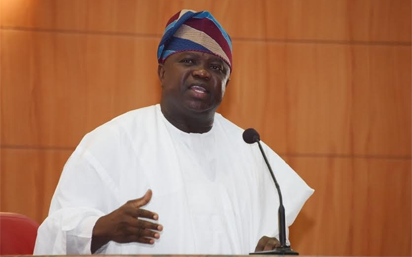 Lagos State Governor, Mr. Akinwunmi Ambode,
Gov. Akinwunmi Ambode of Lagos State on Thursday urged APC governors to provide accountable and responsible leadership to the citizens in line with the social democratic principles of the party.
Ambode said this at the opening of a two-day Progressives Governors' Forum (PGF) programme for the inaugural meeting of Secretaries to State Governments (SSGs) under the APC holding in Lagos.
The governor said the governors elected on the platform of the APC should devise ingenious ways of meeting the needs of the people in spite of dire financial straits of the country.
Ambode, represented by his Deputy Governor, Dr Idiat Adebule, said the governors elected under the umbrella of the APC should be fully committed to providing responsive leadership to the people.
"This meeting of our SSGs is one of our strategies to meet the expectations of the electorate through self-examination, stock-taking and experience sharing to adopt uniform implementation of policy initiatives across APC states, " Ambode said.
Also speaking, Gov. Ibikunle Amosun of Ogun, said an all inclusive and open government as well as equal distribution of projects would promote economic growth.
"'This platform is to foster the adoption of developmental policies by APC state governments to promote progressive governance that will outlive our tenures, " Amosun said.
He was represented by the Secretary to State Government, Mr Taiwo Adeoluwa.
Dr Rachid Benmessaoud, the Country Director, World Bank Group, said Nigeria would soon become the third largest country in the world after India and China.
Benmessaoud said the Nigerian government would need to increase its commitment to the economic challenges hindering the country from meeting the needs of its citizens.
"To meet this status, the Nigerian government will need to improve partnership with the private sector to achieve its set developmental agenda, improve its economy, create more quality jobs and better the lives of its citizens.
"The mission of the World Bank is to boost prosperity and key into developmental agenda of countries via technical advice and financing.
"We have seen Nigeria's economic plan and commitment to address its current challenges and we are looking at ways to come in and assist," he said.
Alhaji Salihu Mohammed-Lukman, the Director-General, PGF, identified the secretaries as the engine of governance because they translate government's vision into actions.
"This meeting is conceived to look at the challenges in our states, fashion out policy recommendations that can shape and facilitate delivery of good governance at the state level.
"We are also here to share ideas around initiatives emerging from states, develop synergy and identify best practices that can be replicated across the states, " he said.