By Levinus Nwabughiogu
ABUJA-President Muhammadu Buhari has landed at the Aso Presidential Villa, Abuja helipad after some 51 days vacation in London United Kingdom.
His chopper talked ground at about 8:42 am on Friday.
Meanwhile, as early as 7:00am, some key officials of his government were already gathered at the Aso Villa Helipad to receive him.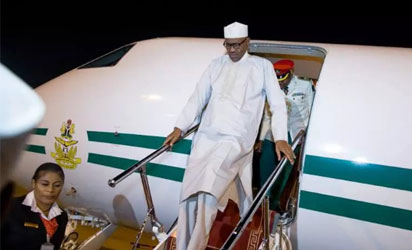 Among officials were Vice President,Yemi Osinbajo,Chief of Staff to the President,Abba Kyari, Special Assistant to the President on Media and Publicity,Femi Adesina, Minister of Federal Capital Territory, Mohammed Bello, National Security Adviser, Babagana Mongunu, Inspector General of Police, Idris Abubakar, all the Service Chiefs among others.
Recall that the President left the shores of the country precisely on January 19, 2017 with a promise to come back on February 6.
But due to medical advice to run some recommended tests by his doctors whom he consulted while in London, the president couldn't return on the February date.
Meanwhile, hardly had the president spent a day in London upon his arrival than a sweeping speculation took the air that he was dead.
To dissuade the minds of the people, the national leader of All Progressives Congress, APC, Asiwaju Bola Tinubu and former National Chairman of the Party, Chief Bisi Akande visited him in London.
Later, the Wife of the President, Aisha also visited.
Similarly, the Senate President, Bukola Saraki and the Speaker of the House of Representatives also visited.
President Buhari was later to engage in series of calls to many dignitaries amongst whom were President Donald Trump of the United States of America, former Head of State, Gen. Yakubu Gowon and former President Olusegun Obasanjo.
Two weeks ago, the President called the members of his media team made up of the Minister of Information, Lai Mohammed, Presidential Media Adviser, Femi Adesina and the Senior Media Assistant, Garba Shehu thanking them for "holding out against mischief makers".
The last person the President saw in London before leaving the city was the Bishop of Cantabury, Justin Welby.