By Emman Ovuakporie, Johnbosco Agbakwuru & Victoria Ojeme
ABUJA—At least 20 shops belonging to immigrants were looted in South Africa's capital overnight, police said, yesterday, but could not confirm if the attacks had deliberately targeted foreigners.
This is even as the South African High Commissioner to Nigeria, Lulu Louis Mnguni, yesterday, condemned the attack on Nigerians in very strong words,  saying the attack violated all the values of South Africans.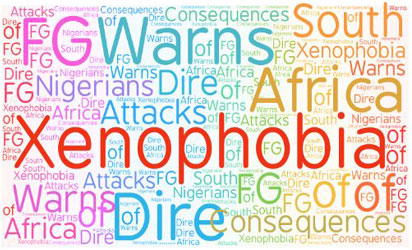 However, the attacks on Nigerians has propelled the National Assembly to want to review all laws that have to do with Nigerian citizens in other countries, with a view to bringing an end to all unwarranted attacks on the people.
South African police said they did not yet know the motive for the latest attacks, and no deaths had been reported.
Police spokeswoman, Mathapelo Peters, said:  "There are allegations that these shops belong to foreign nationals. It is alleged that the community members are saying that these shops were used for drug dealing but that is unconfirmed. We will only be able to start a formal investigation once the shop owners come forward."
Attack  violates values of S/Africans —S-African govt
The South African government, however, condemned the violence against Nigerians in strongest possible terms yesterday, saying the attack violated all the values of South Africans.
South African High Commission to Nigeria, Lulu Louis Mnguni, who spoke for his government in Abuja, said:  "When you talk of Tambo, he taught us about respecting humanity that must work towards people realising their full humanness because our struggle against apartheid was a struggle against dehumanization of people, it was a struggle for human rights. And given the basis of our constitution, the basis of our foreign policies is that of human rights.
"The mob attack defies South African values for respect of human life, human dignity because we say 'I am because you are'.  I cannot realise my full humanity without you realizing your own and also no amount of frustration or anger can ever justify the attacks on foreign nationals."
NASS to review laws on Diaspora issues
Meanwhile, the National Assembly is planning to review all laws that have to do with Nigerian citizens in other countries to bring to an end all unwarranted attacks on the people.
This is as the Federal Government delegation expected to leave soon for South Africa, will be interacting with Nigerians in the country, especially in Pretoria, to determine the level of the attacks and the reasons behind them.
Chairman of the House of Representatives Committee on Diaspora Matters, Rita Orji, who disclosed this in an interview with journalists in Abuja, yesterday, said attacks on Nigerians had persisted because the Federal Government had not taken any drastic action to retaliate the attacks.
She said if there had been punitive measures taken against South Africa, the matter would have stopped by now.
On the efforts made so far to protect Nigerians abroad, Orji said:  "I think we have thrown that matter to the Foreign Affairs Minister because the Minister of State for Foreign Affairs was here with us yesterday (Monday).
"We as members of the National Assembly have our dusted legislation as regards making sure that things are ratified. On the side of government, I am not in the executive, I am in the legislature and you can see that we have not closed our eyes since the matter broke up and we are even the ones that started talking about it first before others..
"I am part of government. If I say government has not done well, I am indicting myself, I am part of government but the call I am putting across is that every one of us should wake up. Nigerians should not be valued only when we hear that they did something wonderful and we applaud them, that is not the issue.
"The issue is that their welfare and protection must come as a priority. Diasporas are not criminals, they are human beings, they are part of us.''