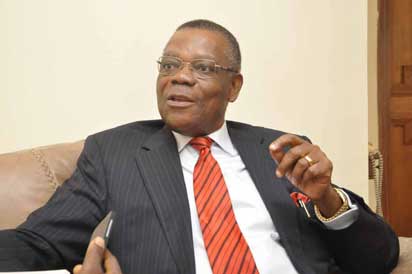 Don Etiebet
By Gbenga Oke
Former Minister of Petroleum, Chief Don Etiebet, has called on Nigerians to worry less about the health issues of President Muhammadu Buhari, and pray for his quick recovery.
Etiebet also said there was absolutely nothing to worry about since Mr President transmitted a letter to the National Assembly empowering Vice President Yemi Osinbajo to act in his absence.
Speaking in a chat with Vanguard, he said Nig
erians should worry less about the continued absence of President Buhari since Vice-President Osinbajo is carrying on in his acting capacity very well.
"I believe strongly that life comes first before you think of rulership or governance. If you are not feeling well, you cannot talk of governing a country. The most important thing is that President Buhari transmitted a letter to the Senate informing them of his disposition and asked Vice President Osinbajo to act until he returns according to the demands of the constitution.
"What then is getting a lot of Nigerians worried since the President transmitted a letter? Is it that the Acting President is not performing well? These are just some busy bodies and they should instead pray for Mr President to get well and return soon rather than get worried over his continued absence from the country.
"I do not believe there is any secrecy behind his health issues because a statement has been issued that he is extending his vacation on his doctor's advice and several Nigerian dignitaries have been visiting him and we see him having tea/coffee with his visitors, so why the worry? I think Nigerians should keep praying for his safe return," he stated.