Last week, we published a special edition of St. Valentine's day with some Nollywood divas sharing their sweet and sour Valentine's stories. If some actresses have sour stories to tell, not the beautiful Yoruba actress, Joke Jigan of the 'Bisola Beyonce' fame. In fact the joy she felt on the day was so palpable her smiles told it all and she capped it with a gleeful Instagram post.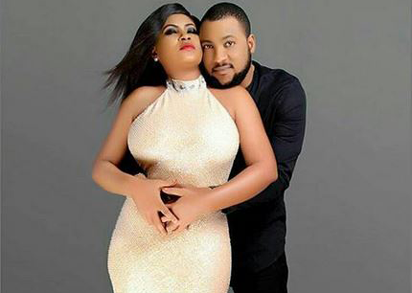 "Okay, so let me take you all back to this day last year when I posted this picture and a lot of you insulted me and a lot just couldn't wait to see his face and today I am reposting it because love is not how long you have  been together, not how much you have given or received, not how many times you have helped each other, it's actually how you value each other! You are that man that value this naughty me with all of my naughtiness and you are my VAL!!!!!! Happy Val BABAJEG I love you!!!!!," she gushed.
Recall that the actress posted a picture of hers and a guy backing the camera in sexual embrace last Valentine. And everyone was asking who the mystery guy was. We have since come to know that the guy is her fan, called Jeg and their relationship has since made headlines. So, for the actress, the last Valentine was an anniversary of the former one.
When Potpourri asked her to tell us the full story behind their blossoming love affair, the pretty, chubby-cheeked actress only smiled with a crisp answer. "I went to eat Amala and he saw me and that's it. I will give you the full gist when the time is right," she beamed.