The Managing Director, Capital Oil and Gas, Dr Patrick Ifeanyi Ubah has called for the review of the National Youth Service Corps, NYSC, in order for it to become a job creating platform as against what the scheme offers now.
Ubah, who spoke yesterday, at the Nnamdi Azikiwe University, Awka, Anambra State, at an event organized by Nigeria Economics Students Association, (NESA), UNIZIK Chapter, called for review of the NYSC Scheme from what it represents now to a scheme capable of solving Nigeria's employment crisis.
Speaking on the topic "Entrepreneurship and Nigerian Youths: Ifeanyi Ubah Experience and Lesson," the Anambra-born Entrepreneur who was represented by his SSA Media, Ikechukwu Onyia advocated for new direction with respect to the NYSC Scheme.
Ubah said: "NYSC is a scheme introduced by the Federal Government as an Interventionist policy immediately after the civil war, it was meant to serve as an integration scheme and not for job creation."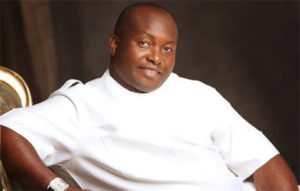 "But now, the greatest crisis facing Nigeria is that of unemployment and the development calls for the review of NYSC Scheme to reflect job creation. The scheme founded in 70s is over 40years old and therefore begging for a review."
"Today, the Federal Government pays each Corp member under NYSC Scheme N19, 800 per month and that gives us N237, 609 per year and when you factor in other expenses that emanates from camping, you will be having about N300,000  for each corp member per year."
"Federal Government Mobilizes 150,000 graduates every year for NYSC. Let's use 150,000 graduates here. If in a year, Federal Government mobilizes 150,000 graduates for NYSC and spends around N300, 000 on each of them, this amounts to N45 Billion per annum.
He  added that "we can review the scheme and make our graduates go through various skills acquisition training upon graduation and N300,000 handed to them by Federal Government to establish the Entrepreneurship skill that he or she might have learned. We can hand over this N300,000 to our graduates after they must have passed through one, three weeks or say one month Entrepreneurship or skill acquisition training as a seed or start up capital.
"Yes, we can re-adjust the 12 months service year to three weeks or one month which will be used for the training of these graduates towards self reliance."
The Proprietor, FC Ifeanyi Ubah asked, "what is the gain of spending N45 Billion on our graduates after which you push them to the unemployment market? Is it not better we train them and hand each of them the N300,000 as a seed capital.?"
"Some of them can even use their own seed money to go into cooperative groups among themselves towards setting up various businesses upon graduation and by so doing, we will be creating job creators instead of job seekers."
Ubah challenged the students to redirect the conversation towards providing solutions to the challenges blighting the Nation as the country is faced with multiple economic shocks.
"You must start raising agenda for the policy makers of this Nation. Creating solution is what makes an Entrepreneur thick and you must rise to the occasion especially now that our Nation faces multiple economic shocks.
"Good enough, there is hope because you are here today in this hall as stakeholders in this great search for solutions."
Ubah, however, called on the government to redirect its focus in creating enabling environment for Entrepreneurship to thrive in Nigeria.
"The truth is that Government cannot do this alone and there is need for Government at all levels to start creating enabling environment through Public Policies that will stimulate entrepreneurial growth in the country in order to forestall recurring economic crisis in the country."
On his part, Professor Nwogwugwu of the Economics Department, UNIZIK, called on the students to start thinking as job creators, saying, "You are here to learn how to solve problems facing our Nation and not to create one."
Highpoint of the event, was a question and answer segment.