President Donald Trump pressed his attacks on US intelligence agencies Thursday, vowing to catch "low-life leakers" amid a battle over contacts with Russia that led to the ouster of his national security adviser.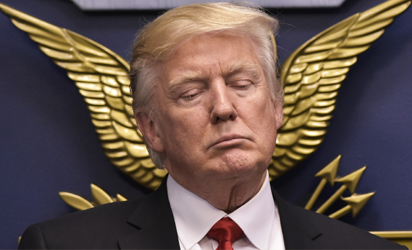 The latest flurry of presidential salvoes came amid reports that Trump plans to name a New York billionaire, Stephen Feinberg, to lead a sweeping review of the US intelligence agencies, raising fears of a bid to curtail their independence.
Since firing his top security aide on Monday night, Trump has lashed out repeatedly at the community, portraying the leaks that prompted Michael Flynn's departure as a bid to undermine his legitimacy.
"The spotlight has finally been put on the low-life leakers! They will be caught!" Trump declared in an early morning tweet Thursday.
"Leaking, and even illegal classified leaking, has been a big problem in Washington for years. Failing @nytimes (and others) must apologize!"
Trump decried Flynn's treatment at a news conference on Wednesday despite having fired the retired general two days earlier for deceiving Vice President Mike Pence about his contacts with Russia's ambassador to Washington.
Instead, the president trained his fire on "criminal actions" of people "trying to cover up for a terrible loss that the Democrats had under Hillary Clinton."
Earlier, he pointed the finger at the National Security Agency, which conducts electronic surveillance, and the FBI, which handles counter-intelligence probes, as possible sources of the leaks.
"The real scandal here is that classified information is illegally given out by 'intelligence' like candy. Very un-American!" he stormed in a tweet on Wednesday.
– 'Classic misdirection' –
But the drumbeat of revelations has infuriated Democrats and alarmed Republican leaders, wary of Trump's overtures toward Russia.
"It is a cloud over the White House," said Senator Lindsey Graham, a Republican hawk who has called for in-depth investigations.
The attack on leakers "is classic misdirection: he's discrediting the revelations, thereby drawing attention away from what's revealed," tweeted Strobe Talbot, a former deputy secretary of state under Bill Clinton.
Trump's stance on leaks has flipped since last year's presidential campaign when he dismissed as a "joke" charges that Russia was behind damaging leaks of hacked Clinton campaign emails.
"Russia, if you're listening, I hope you're able to find the 30,000 emails that are missing," he said at a news conference in Florida last July.
By January, US intelligence had concluded that those leaks were part of a wider campaign ordered by President Vladimir Putin to try to tilt the election in Trump's favor. Moscow denies any involvement.
The New York Times reported Wednesday that intercepted calls and phone records show Trump aides were in repeated contact with Russian intelligence officials at least a year before the US elections.
Among those whose calls were monitored was Paul Manafort, a Trump campaign chairman who had worked as a political consultant in Ukraine, the report said. Manafort called the report "absurd."
Trump also dismissed the report in a tweet as "non-sense.
– Mutual distrust –
With that as the background, a sense of mutual distrust has pervaded the president's relationship with the intelligence community.
As president-elect, Trump ruffled feathers by giving short shrift to his daily intelligence briefings, and outraged the CIA's director by likening the intelligence agencies to Nazi Germany after the leak of a dossier that made unsubstantiated claims that Russia held compromising information on Trump.
The Wall Street Journal reported Thursday that US intelligence officials have withheld from Trump sensitive information on sources and methods because of concerns it could be leaked or compromised.
A White House official rejected the report, saying "there is nothing that leads us to believe that this is an accurate account of what is actually happening."
Trump has appointed Mike Pompeo, a Republican lawmaker from Kansas, to head the CIA. His nominee for director of national intelligence, Dan Coats, is awaiting Senate confirmation.
The Times said the planned intelligence review by Feinberg, a co-founder of Cerberus Capital Management, was seen as a way of injecting a Trump loyalist into the intelligence community.
Feinberg, who has no national security experience, had been considered for top intelligence positions as either director of national intelligence or head of the CIA's clandestine service, the Times said.
– Russia moves –
Meanwhile, the Trump administration has moved gingerly on Russia, sending top officials to Europe to reassure NATO allies while making its opening official contacts with the Russians.
US Secretary of State Rex Tillerson met with his Russian counterpart Sergei Lavrov in Bonn, and said Washington is prepared to work with Russia "when we can find practical areas of cooperation."
In Brussels, Defense Secretary James Mattis said the Pentagon was not ready "right now" for military cooperation with Moscow "but our political leaders will engage and try to find common ground or a way forward."
Putin, meanwhile, called for Russian intelligence agencies to bolster their cooperation with the Americans in the fight against terrorism.