Nigerian gospel artiste, Abioro Seyitan, says tribal and religious intolerance are the nation's "greatest problems which had hindered peaceful co-existence and meaningful development over the years.''
He spoke on Saturday in Abuja in an interview with newsmen, during the launching of an album by Vessels of Honour Voices (VHV) crew, at the Apostolic Church, Wuse 2.
Seyitan, who is also the lead singer of the popular group, said most leaders at all levels over the years set Nigerians against themselves along ethnic and religious lines.
"They have fuelled this tribal and religious intolerance over the years just to achieve their selfish interests.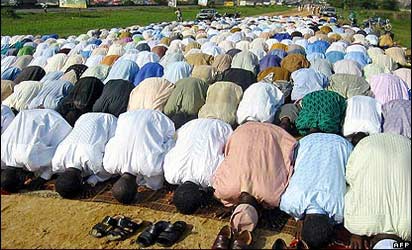 "How can someone have to be from one tribe or religion before he or she can attain certain position or access some privileges?
"Whether Muslims or Christians, it is high time we realised that we have been used to fight ourselves for nothing.
"I strongly believe that Nigerians can live together peacefully and appreciate one another, no matter their religion or tribe," he added. The singer added that Nigeria was a nation brought together and sustained by God.
He therefore urged her citizens, especially political leaders to imbibe the fear of God and love for neighbour in their services to fatherland.
"When we decide to love God and neighbours , vices like corruption, tribalism and oppression will be a thing of the past.
"All these sentimental attachment to things like 'my religion, my tribe and political party first 'will not be necessary," he said.
Seyitan explained that the seven-track album, with the title "Oba Gbogbo Aiye"(King of the Universe), was intended to express gratitude to God, irrespective of what we are facing as an individual and nation.
"The mandate of the VHV band is to champion the message that only God's name as the creator of the universe should be praised at all times.
"I therefore enjoin every Nigerian to support the group in its effort to spread the message of gratitude, love and unity," Seyitan said.