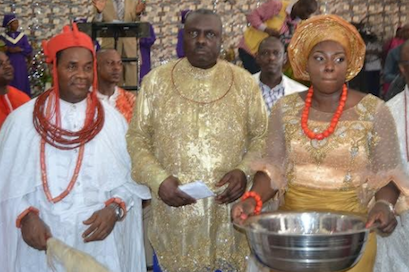 FROM LEFT HRM.NOBLE OYIBO ESHEMITAN OREFE 111 OVIE OF OGHARA,CHIEF JAMES IBORI AND HON.ERHIATEAKE IBORI
By Emma Amaize, Festus Ahon, Perez Brisibe and Paul Olayemi
OGHARA – FORMER Governor of Delta State, Chief James Ibori, yesterday reaffirmed his innocence of charges leveled against him in the United Kingdom where he recently served a jail term, saying, "I am not a thief."
Chief Ibori, who spoke in English and his native Urhobo dialect, gave the clarification at a thanksgiving service organised in honour of him by the monarch and people of Oghara kingdom at the First Baptist Church, Oghara.
The former governor, who was dressed in light brown native and blue wrapper, was ushered into the church during the praise and worship session at about 10.25a.m in company of his sister, Christie Ibori-Ibie, daughter and member, state House of Assembly, Hon Eriatakhe Ibori and a host of other dignitaries.
Speaking for the first time since his arrival after serving his jail term in London, Chief Ibori said: "Today, I have decided to speak for myself, I am not a thief, I cannot be a thief. Today is the day they say I should give testimony to God, for those that know me, you know that my entire life is a testimony itself and I have said it over and over again that my life is fashioned by God, directed by God, sealed, acknowledged, blessed by God and I believe that since the day I was born.
"Like the Arch Bishop said, when this whole commotion started, what was most painful to me was the pain and suffering that my people were going through.
"It has nothing to do with me as a person because for some reasons like I said to you, I drew my strength from God and somehow, I knew that God would stand by me, I knew that one day, and this day would come. I am indeed very pleased that I can now stand before you and look at your faces, faces that I have missed and those of you that have indeed suffered the pains of my absence. It has nothing to do with me.
"So, when I reflect, it gives me joy that all your prayers, God has answered, all your support and solidarity with me all through this period, it is indeed not what I can begin to say…"
"If I am to give testimony of my journey, you will not leave here. The only testimony that I have is the fact that I am back and alive in your midst. And again I say that I never had any doubt in my mind that I would get back home," he said.
Speaking in Urhobo, Ibori asserted: "There is an Urhobo adage that says it is in the river that one changes clothes, it is in the river that I changed my cloth."
"When I looked how things were going, I discovered that they want to separate me from you people. They want me to go to the corner where I will not be seen.
"That is how I see it. At a point, I called my elder brother (former Governor Uduaghan) that this is how I can get home, that this is what I am about to do now. It was a pragmatic decision. I am happy to be home with my people. There is nobody that can battle with the Lord. Urhobo adage says there is time for everything (Okemutie). A day will come when I will tell my story and every one of you will hear me. Today is to thank God," he added.
Earlier, the South-South chairman, Christian Association of Nigeria, CAN, Arch Bishop Gpddowell Awomakpa, who delivered a sermon on "Knowing the Gift of God," said: "Ibori was the point of contact that unites government with the church. What we actually need are politicians, who would go into politics for the betterment of the land."
"James Ibori comes from God and as we speak, he represents another government up there. In Urhobo land, we have two people who made mighty impact. Olorogun Michael Ibru, after him, all of them went there for their pocket until the time of Brother James.
"Some of you while in office did not even build a house for anyone, but this building that we are in here today, was actually built by Brother James, besides who believed that Brother James would come and be here with us today. Today indeed calls for joy and celebration for the people of Oghara kingdom," the clergy man asserted.
In his remark, the Ovie of Oghara kingdom, Orefe III, who spoke on behalf of the people of the kingdom, said: "Oghara is blessed with a very big son in who we are well pleased.
"Our son has placed Oghara in a very big map for which we are very happy. We lost our son for some time; he went to a special school and is it not right that we celebrate him? He has touched so many lives and for that we are indeed happy."
Dignitaries present at the event include the former Delta State governor, Dr. Emmanuel Uduaghan, member representing Ethiope Federal constituency in the national assembly, Hon. Lovett Idisi, Speaker of the Delta State House of Assembly, Rt. Hon. Monday Igbuya, Secretary to the Delta State Government, Chief Ovie Agas, Delta State APC factional chairman, Chief Adolor Okotie-Ebor, Senator Patrick Osakwe, Chief Ighoyota Amori, Ovuzorie Macaulay, a cross section of monarchs and a host of political appointees from Delta State.