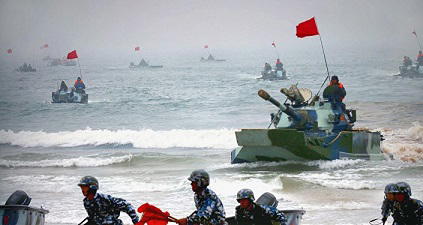 Trump threatens China in South China Sea
A crew of seven Russians and a Ukrainian have been taken hostage off the coast of Nigeria after their ship was attacked, diplomats in Moscow and Kiev said Wednesday.
"According to the information of the Russian embassy in Abuja, there has been an armed attack on the cargo ship BBC Caribbean which belongs to German company Briese Schiffahrt," a Russian foreign ministry statement said.
"Seven Russian citizens who are members of the crew have been taken hostage," it said, adding that Russian diplomats are in contact with Nigerian authorities who are searching for the vessel.
A Ukrainian consular official said there is also one Ukrainian national on the ship.
"At this time the kidnappers have not made any demands and we don't know the location of the kidnapped sailors," said an official with the consular department of Ukraine's foreign ministry, Vasyl Kyrylych.
The BBC Caribbean is a multipurpose vessel intended for dry cargo and flies the flag of Antigua and Barbuda, according to the company's website.
Ship monitoring website Marine Traffic said the BBC Carribean last departed the port of Douala in Cameroon on February 4, headed for Spain's Las Palmas.
It reported that the ship was attacked by pirates on a motor boat in the Gulf of Guinea who were repelled in a firefight and later proceeded westward