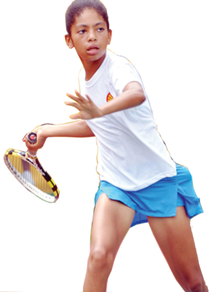 Angel Macleod
For rising Nigerian tennis player, Angel Mcleod, the 3rd Rainoil/Ikoyi Club Tennis Masters might prove to be the turning point in her bid to be among the top guns in women's tennis in Nigeria.
The 16-year-old has displayed lots of potential over the years but she continuously fell short of rubbing shoulders among the big girls managing, in most cases, second round appearances at domestic tournaments.
However, she showed why she would soon be hugging the headlines regularly with a commendable display against Christie Nwankwo to keep her in the title hunt at the tournament reserved for the top players in the country.
Having been crushed 6-2, 6-0 in her opening match against top-seed, Christie Agugbom, she went to Wednesday's match against her better-ranked and experienced opponent as an underdog but turned the game on its head with an impressive 6-4, 6-4 triumph.
Although Nwankwo was discovered to have played with a foot injury, the improved performance by McLeod, who hits series of winners and made few unforced errors, was acknowledged by most of the fans.  The win was her first in five matches at the Masters having lost her three preliminary matches in the first edition where she featured as a wild card entrant.
Though it could be argued that sentiments have kept swinging on her side since the tragic death of her mum, she is now showing the quality in her game, which had receded as she struggled to cope with the demise of her mum, Beauty Mcleod, an active tennis player, who was also her coach.
Despite her showing so far, her chances of winning the N1.5m championship remain slim due to the display of the likes of defending champion, Sarah Adegoke, Ronke Akingbade and Patience Onebamhoin but with about two more years to play international tennis at the junior level, she would be of immense value to Nigeria at the regional and continental stages.
A pointer to her strong will to hit the top is best highlighted by her winning two medals for Nigeria at the West and Central Africa Championships in Abuja in January 2016.
She had gone for the burial of her mum in Onitsha on Friday and returned to the Team Nigeria camp in the evening of the next day. With her match scheduled for Sunday morning, she was noticed to have waken up before any of the Team Nigeria contingent to go on a light exercise at dawn.