By Innocent Anaba
Lagos—Human rights lawyer,  Chief Mike Ozekhome, SAN, has asked a Federal High Court sitting in Lagos to vacate the order freezing his account.
Trial judge, Justice Abdulazeez Anka, on February 7, ordered a temporary forfeiture of N75 million found in Ozekhome's Guarantee Trust Bank, GTB, account.
The order followed an application by the Economic and Financial Crimes Commission, EFCC, which prayed the court to freeze the lawyer's account temporarily on the ground that the N75 million was suspected to be proceed of crime.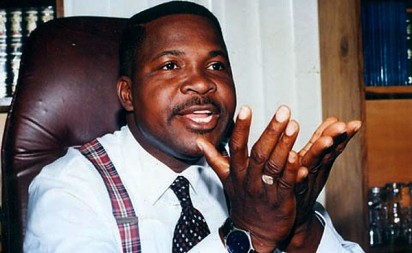 Ozekhome is praying for an order discharging and/or vacating forthwith, the interim order made ex-parte, which ordered an interim order of forfeiture to freeze or attach the money for 120 days.
He sought an order restraining the Federal Government and the EFCC, whether by themselves, their operatives, agents, servants, and/or privies howsoever, from dealing in anyway and manner as to the operation or the proprietary rights of the ownership of the account.
Ozekhome said the application for an order for interim attachment/forfeiture of his account was done in bad faith by EFCC, which he said did not comply with statutory and judicial authorities in obtaining an interim order vide motion ex parte.
According to him, the respondent allegedly suppressed material facts in obtaining the order, therefore, the action is unconstitutional as same offends sections 36, 37 and 41 of the 1999 Constitution as there was no legal justification for EFCC's action.
Ozekhome added that  EFCC's application and the subsequent order were based on non-compliance with the court's rules and judicial authorities regulating the grant of ex-parte application.
He argued that the entire application leading to the grant of the interim order ex parte amounts to forum shopping and was calculated to overreach him.
Ozekhome said that the N75million was part-payment of legal fees from Ekiti State governor, Mr Ayodele Fayode.
On the materials facts, Ozekhome said EFCC did not disclose to Justice Anka the fact that Justice Taiwo O. Taiwo of the Federal High Court, Ado Ekiti, had defrozen Fayose's accounts forthwith, thereby allowing the governor to operate them, before Fayose transferred N75 million to Mike Ozekhome's Chambers account.
Ozekhome said as at the time Fayose transferred the money, there was no court processes filed or served on the applicant, indicating that the EFCC was on appeal, or asking the court to stay the execution of the order defreezing Fayose's account.
The motion to set aside the freezing order will be heard on February 23.