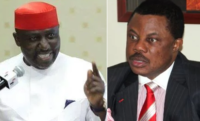 •Okorocha: Imo governor and •Obiano: Anambra governor
By Chidi Nkwopara
OWERRI—The media war between Governor Rochas Okorocha of Imo State and his Anambra State counterpart, Chief Willie Obiano, has been described as not only unnecessary, but has also exposed a lot of previously hidden things.
An Owerri-based social crusader, Prince Bob Kay Njemanze, who made his feelings known in a statement in Owerri, also said certain issues have been brought to public domain.
He said: "Certain things that have remained speculative have now been confirmed to the chagrin of leadership in Igboland. At the level we are talking, some sensitive comments are like gospel.
"When a governor is said to have called his colleague a fraudster, what could the ordinary man do or believe?"
While warning that the position of a Chief Press Secretary is not that of an attack dog, Njemanze reasoned that "wars are not necessarily won by fighting, but through dialogue, which is a more mature approach any day."
He said a lot more would have been achieved if on either side, a friendly approach was adopted, instead of "wearing gloves and sending Igbo leadership to the boxing ring."
Njemanze was however irked that Imo State has not been particularly lucky with the mode and choice of selection of people to govern her.
"While Anambra State has been known for picking or voting for sound technocrats, besides Chief Achike Udenwa, governors in Imo State, have been by default, with doubts as to character and credibility guided by unconfirmed stories of philanthropy shrouded in deceit", Njemanze reasoned.
He lamented that "we have been victims of the more you look, the less you see", even as he opined that the people who are gradually indicating interest or are being encouraged to run for offices, have no hallmark on their personal character.
Njemanze appealed to Okorocha and Obiano to sheathe their swords and tap their attack dogs on the head, pointing out that the people have been traumatized by their various revelations.
"This time, it is no longer a question of do not say I told you, but Obiano or Okorocha said and all we owe the two of them is to believe whatever they said against each other. It may not necessarily be complimentary, for at that level, they are statements of fact", Njemanze said.