Minister of Information and Culture, Alhaji Lai Mohammed, says the country is under siege of disinformation and fake news that can bring the country on her knees if not checked.
The minister stated this on Friday in Abuja when he paid a working visit to the headquarters of DAAR Communication Plc, owners of African Independent Television (AIT) and Raypower FM.
Mohammed said that the dangerous trend of disinformation and fake news championed by social media and which the traditional media are "unfortunately feeding on, could tear the fabric of society, if not checked.
"There was a time when the spoken and the written words were not challenged or questioned, but today it is not so.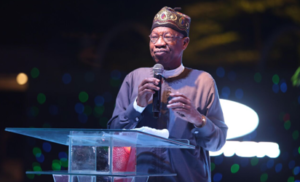 "About 50 per cent of what we read in the social media is not true but unfortunately even when it is not credible, it goes viral and people believe the fake stories.
"My greatest problem and worry is with the traditional media, which are latching on the same fake news and disinformation.
"I am worried because it affects the credibility of the media itself and once the media is no longer believed by the people, then it has serious consequences on the society,'' he said.
The minister recalled the recent disinformation on President Muhammadu Buhari who is on vacation but fabricated news on his death and health went viral.
"What happened last week is quite worrisome as Mr President left for vacation.
"Within 12 hours of leaving the country, news that he has died went viral, later it changed to that he was critically ill.
"This actually heated the polity and even the rebuttal of the spokespersons to the President and myself, did little to dampen the rumour,'' he said.
He appealed to traditional media not to join force with the purveyors of fake news but ensure that the unity and security of the country become paramount consideration when weighing what news to send out.
The Executive Chairman of DAAR Communication, Raymond Dokpesi Jnr. said the issue raised by the minister was very pertinent to media and journalism generally.
"The emergence of fake news driven primarily by social media is indeed a global phenomenon,
"It behoves on us the traditional media to reaffirm our commitment to the highest ethic and standard of journalism, to investigate and fact-check stories before we go to press."
He said AIT and Raypower, over the years have been absolutely committed to the highest standard of journalism.
Dokpesi said they had been looking forward to the minister's visit.
"You are our own minister. After the whole cycle of electioneering, there must be the need to build bridges and move from political mood to governance mood,'' he said..
Speaking in same vein, the company's Group Managing Director, Tony Akiotu, said DAAR Communication shared the passion for the survival of the Nigerian project.