By Emeka Anaeto & Babajide Komolafe
The Naira yesterday recorded its biggest daily gain against the dollar, as it appreciated by 3.3 per cent to close at N503 per dollar in the parallel market, as against the high point of N520 recorded earlier in the week.
Bureaux De Change, BDC, sources attributed the appreciation to sharp fall in demand for dollars due to the new foreign exchange measures announced by the Central Bank of Nigeria (CBN)  on Monday.
Vanguard survey reveals that the parallel market exchange rate opened the day at N515 per dollar, but fell steadily throughout the day to close at average of N503 per dollar in most major cities.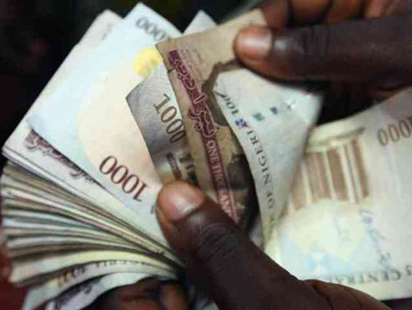 Confirming this development to Vanguard, a BDC chief executive, who spoke under anonymity said: "Demand is very low. There is little activity in the market. At some point there was freeze in the market as nobody wanted  to buy due to anticipation that the rate will drop further. Also those who have dollars did not  want to sell because they bought when the rate was high. So they are not selling, hoping that the rate will still rise again.
The rate will likely continue to fall except if the CBN does not sustain the momentum of the new policy by ensuring steady dollar supply into the foreign exchange market."
The CBN on Tuesday commenced implementation of its new foreign exchange policy by selling $411 million to banks to meet foreign exchange demand for visible and invisible transactions.
The apex bank had offered $500 million at the forwards segment of the forex market with $370.8 million taken up by the banks. A breakdown of the forwards indicates that $216,465,671.02 was for 30 days, while $154,345,139.77 was for 60 days.
Another $46 million was executed in the spot transactions as part of the $411 million.
The apex bank also made spot sales of $1.5 million to four banks, totalling $6 million. It also offered $41 million for sales out of which $35 million was taken up for the payment of school fees, medical bills and personal and business travel allowances.
Prior to these measures, the Naira depreciated persistently in the parallel market from N495 per dollar at the end of January to N520 per dollar  on Monday. This trend was however reversed  on Tuesday  as the parallel market exchange rate dropped to N516 per dollar, and yesterday to N503 per dollar.
Fitch appraises the new forex measures
Meanwhile, Fitch Ratings, a leading global financial rating agency, said yesterday that the measures announced  on Monday  by the CBN might ease some of the severe foreign currency liquidity pressure faced by the country's banks.
The agency said the most important aspect of the CBN's announcement was a plan to normalise the foreign exchange interbank market.
It also stated: "The intention is to clear the backlog of overdue foreign currency obligations owed by banks to international creditors. These are primarily trade finance obligations owed to correspondent banks. In addition, the CBN will no longer have a say in how banks on-lend the foreign currency they access from it."
"Banks previously had to demonstrate that funds were being directed to priority sectors of the economy. The CBN says that providing foreign currency to the manufacturing sector is