The All Progressives Grand Alliance (APGA] has disowned Mr Chucks Nwoga, who has been parading himself as the party's National Youth Leader.
Mr Ifeatu Obiokoye, APGA National Publicity Secretary, said in a statement issued in Abuja on Monday that Nwoga was expelled from the party in December 2016.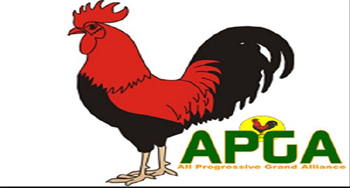 According to him, Nwoga who hails from Enugu State had been making publications on Facebook, WhatsApp and other social media as APGA national youth leader.
"Let it be known that the APGA National Executive Committee (NEC) in its meeting held at Awka on December 21, 2016, expelled the said Chuks Nwoga and four others.
"Chuks Nwoga is therefore committing a serious crime of impersonation by his continued and unabated false representation to the public as the party`s national youth leader''.
Obiokoye stressed in the statement that Nwoga and his cohorts would be arrested and prosecuted, if he continues with the act.