By Sofowora Oladapo
For those conversant with the literary writings of one of Nigeria's acclaimed dramatist Late Prof. Femi Osofisan in one of his master award winning piece aptly titled, 'Birthdays are not for dying. Indeed, birthdays are supposed to be occasion for the celebration of the living. Birthdays are also a period where the celebrant takes a deep look at the past with redolent memory and nostalgic feeling. Inarguably, if there is any person currently experiencing the proverbial seventh heaven, archetypal of a woman who just got delivered safely of a new baby, it's no other than King Wasiu Ayinde Omogbolahan Olasukanmi Marshall; the quintessential Fuji music game changer also fancied with monikers and sobriquets like K1 De Ultimate, Talazo, Capo de Tuti, Bobo and many more.
As the Fuji music veteran celebrates his 60th birthday on the 3rd of March, not a few people are willing to share in his bounty full of joy. The reason is the 'Birthday boy' means so many thing to different people in and outside the shores of the country.
Ayinde, according to information made known to me, has showed his enigmatic traits right from when he was conceived by his mother. Though, he might not be said to be a clairvoyant who sees what the future holds, but, he showed great potential while growing up. As a child at age 8, his dream and aspiration was to become a great music artiste. But, alas, his parents opposed to the development on their son becoming a music artiste. At age 15, the sweet journey started with a step as he won several music competition showcasing his dexterity. Luckily, providence has granted him his heart's yearnings.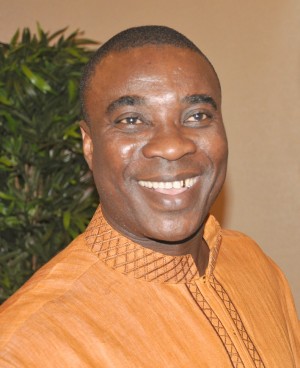 In 1975, KWAM1 joined his mentor's Dr. Sikiru Ayinde Barrister's 'The Supreme Fuji commander Band'  where he learnt under his tutelage and left in 1979 to form his own band. Kwam1 released 'Abode Mecca' his first official solo album, but believe me it took him several years after to finally break loose into the mainstream. In 1984 he released his most successful Album 'Talazo 84', an album that sold platinum, spanned outside the shores of Nigeria, which made KWAM1 a force to reckon with in the Fuji music genre. Wasiu, redefined the Fuji genre by infusing other musical instrument like the guitar, saxophone and keyboards making it sound more 'funkified' and danceable.
Evidently, the Lagos born Ijebu-Ode Fuji music artiste, whom is known for his luxurious lifestyle is very influential and powerful in the societal radar. Little wonder, why he is regarded as the most imitated Fuji artiste in the country. Many upcoming Fuji artiste copy his voice and his music rendition and composition. The Niche he carved for himself is being copied by many upcoming artiste whom regard themselves as his protégé. K1 has 8 studio album and a yet-to-be released album titled 'Let the Music Flow' and 12 live albums to his credit. Breaking new grounds, he went on tour to different countries around the word where he has popularised the Fuji genre. He remained the only Fuji artiste to have performed at TROYX in England, World Music Expo and 'Sound Of Brazil in New York'.
Wasiu Ayinde a philanthropist per excellence and a God fearing person. Out of his sheer passion to promote Fuji music to enviable heights, he staged his K1 unusual concert which was solely sponsored by him spending over 200 million of Naira, a concert where K1 gave back to his loyal fans. In a means to unified all Fuji Music practitioners, K1 went ahead to register FUMAN under the Corporate Affairs Commission. K1, still waxing stronger, has often said, 'My best is yet to come'. His birthday plans are beginning to be unveiled as it will be held in different part of the country and outside.
Just like a lyrics in one of his songs 'Bobo no go die unless toba di Arugbo', K1 is still full of life with scintillating performance and unmatched achievement at 60.